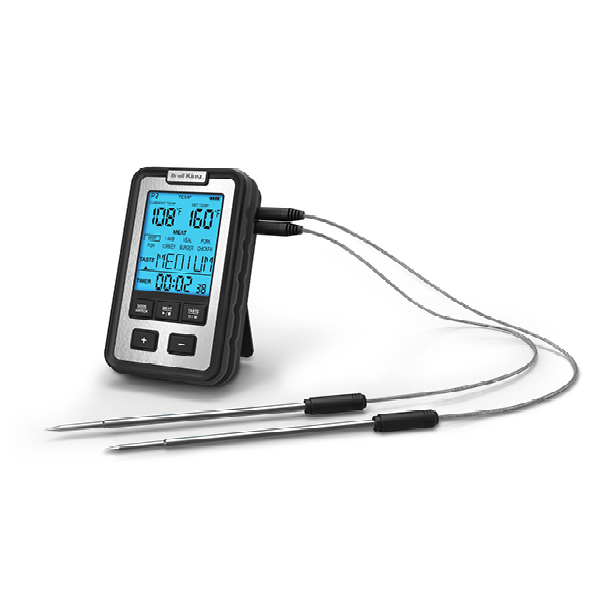 SIDE TABLE THERMOMETER
61935
Temperature is the best way to tell doneness but every time you lift the lid your grill loses heat and the cooking process slows down.
Monitor the whole cookout from outside the grill! The side-table thermometer's two probes enable you to simultaneously monitor the internal temperature for a cut of meat and the ambient grill temperature; without opening your grill to check inside. It has an integrated countdown timer and a wide range of target doneness for each cut of meat, or you can set your own target. Temperature range: approximately -50C – +300C (-58F – +572F) Grilled Asparagus and Prosciutto Spears
Rated

4

out of

5
by
6wheeler
from
Works well
I just used this for the first time on my offset smoker. I thought the unit thermometer was off. This showed I was correct. Off by app. 50 degrees Fahrenheit. Good to know. This worked fine. Only thing that would be better? If it could be connected to a phone to warn when temp changes. Anyway? So far so good.
Date published: 2022-06-26
Rated

4

out of

5
by
Momofthree13
from
Nice thermometer
I got this for my husband who loves to cook. Like so much, this is a second set (not the same brands though) This one is pretty impressive. The reading is pretty spot on, it's easy to clean and store as well. It's pretty nice set to have if you don't want anything overly extravagant.
Date published: 2019-10-25
Rated

5

out of

5
by
mishawakajim
from
Great Thermometer at a fair price.
I am new to smoking, so I bought one these a few weeks back. It's been totally instrumental in me having success in everything I've smoked so far. With 2 probes, it gives you the ability to monitor the cooking temp and internal meat temp at the same time.
Date published: 2022-03-12
Rated

5

out of

5
by
Browneyedgirl
from
Great features!
Side Table Thermometer is an amazing product. I would highly recommend this for people needing to make sure there food is cooked throughly. Its very easy to use and ive ised this serveral times and going to give one as a gift to my father in law.
Date published: 2019-10-18
Rated

4

out of

5
by
Nschuyler28
from
Side table Thermometer
This really nice thermometer. I like you can take two different Temperatures on the grill and on the peace meat you are cooking. Like how it's all digital and easy to read.i recommended to anyone who is looking for a good grilling thermometer.
Date published: 2019-10-06
Rated

5

out of

5
by
Ggrant
from
Great
The Broil King side table thermometer is really handy. It's nice to be able to put the probe in the meat and check the temp without opening the lid and letting heat out. You can easily monitor the internal temp of whatever you are cooking.
Date published: 2019-10-06
Rated

5

out of

5
by
kaorinu
from
i like it
this product is easy to use, and its handy for time management, instead of wasting time on a manual thermometer. I haven't tried it on a grill yet, but I've made use of it for my roasts in the oven and other meat products as well.
Date published: 2019-10-10
Rated

4

out of

5
by
Dugger
from
Good product
This thermometer works well. It was easy to follow the directions and use. I did not have any problems using. It seems to read accurately. It helped make for a nice meal that was cooked perfectly! Great product!
Date published: 2019-10-04
Rated

4

out of

5
by
Lesgo Brandon
from
Has the necessary features. Works well.
I used it in my Weber Kettle grill to smoke ribs. Made life so much easier. Has the features I need and seems to be made well. I had no use for the Bluetooth features of the more expensive units.
Date published: 2021-11-11
Rated

2

out of

5
by
Pigeon1
from
How to set timer
I just bought the side table thermometer. How can you get the timer to turn on, or, does it come on automatically, after setting it
Date published: 2022-05-18
Rated

4

out of

5
by
GOLDEN1
from
Works great
I bought this a yr ago still works great everytime my meat turns out perfect
Date published: 2022-03-06