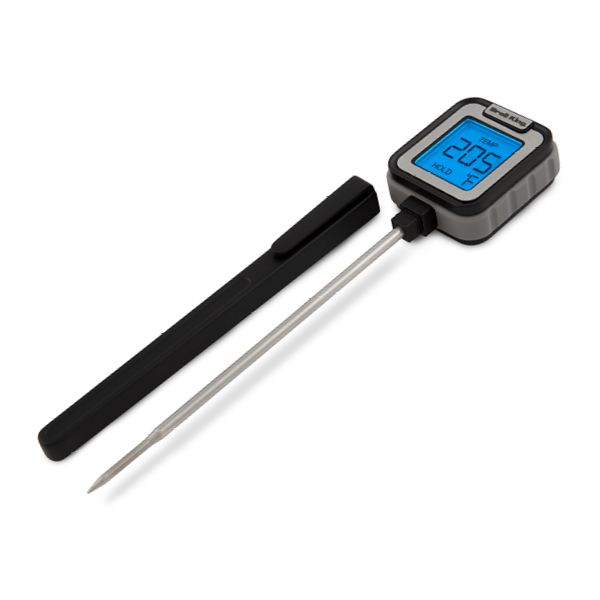 INSTANT READ THERMOMETER
61825
Quick temperature level readouts, backlit screen, fine tip probe, rugged body. Everything a backyard chef needs, compact and reliable. Battery included. Temperature range approximately -50C – +300C (-58F – +572F) Grilled Asparagus and Prosciutto Spears
Rated

5

out of

5
by
Iesha
from
Handy product
This little gadget is great when it comes to cooking. I needed an update bad and got this. Wow. So much better and easier. Reads temps like a champ. Digital, long needle and easy to clean.. what's not to like? It doesn't take long to read different meats either. Makes cooking easier also if you ever wondered if your meat was cooked properly. Great for first timers. I think it's a must in any kitchen.
Date published: 2019-10-30
Rated

5

out of

5
by
Bigmosmom
from
Works great
This is a great gadget to have in my kitchen. I have a hard time when cooking certain foods. With this I am able to correctly make sure their cooked through. It's also great for grilling steaks. I like mine medium rare and with this I'm able to determine when it's perfect. Works immediately and measures correct temp quickly. Also comes with a little cover to protect it when not in use. Very handy!
Date published: 2019-10-17
Rated

5

out of

5
by
dieseltdi
from
How did I use a regular one?
I have the old school style with the little dial that takes forever to read the temperature of anything. This one is amazing! How did I ever use the other one for so long! Gosh this one is instant, out it in and boom correct temperature instantly. Easy to clean and has a handy sleeve to keep it clean and safe while storing.
Date published: 2019-10-06
Rated

5

out of

5
by
Jennifer74
from
Loved it
I wasn't really sure what to think when I got this. I have never tried a instant read thermometer. I have always used the ones that with a dial and arrow to show the temperature. Honestly I love this it takes the guesswork out of making sure that my food is actually cooked
Date published: 2019-10-07
Rated

5

out of

5
by
Hickamom
from
Great Tool for Checking Temp
I have used other thermometers before and had mixed success. The Instant Thermometer worked well. I tested it on a turkey that I made and I usually have issues getting an accurate temp read on my turkey. This thermometer was easy to use and accurate. Turkey came out great!
Date published: 2019-10-08
Rated

5

out of

5
by
Debrasworld
from
Great product
I love it works great to know when the meat is cooked to the right temperature. It is digital which is great. It comes with a cap to protect the thermometer. Also you can replace the battery which is a plus. You can always use it.
Date published: 2019-10-11
Rated

5

out of

5
by
JennyJune
from
Makes dinner a breeze!
As the only cook in the family, I needed a thermometer as backup to make sure my food was cooked thoroughly- but not over cooked. I have never used a meat thermometer before, so was a bit nervous. However, this is super simple to use, and has made my meals so much easier! The thermometer is sturdy and solid, with a protective case for the probe. The style is sleek with an easy to read backlit screen. Batteries are included, making using the thermometer as simple as opening the package! To use, just insert the probe into food and the temperature is instantly shown on the screen- which can be in ferenheit or celsius. Simple as pie. I love this gadget and it has already saved plently of meals! No more cutting into foods to see how they are cooked- now my food can be as pretty as it taste!
Date published: 2019-10-09
Rated

5

out of

5
by
mnkeygrl4
from
Great Backlit Digital Thermometer
Love this thermometer. Nice and simple. Love the backlight, nice blue color. On off switch on back, along with farenheit celcius switch. Simple plastic cover for storage. Thermometer works quickly and accurately. Great item!
Date published: 2019-10-06