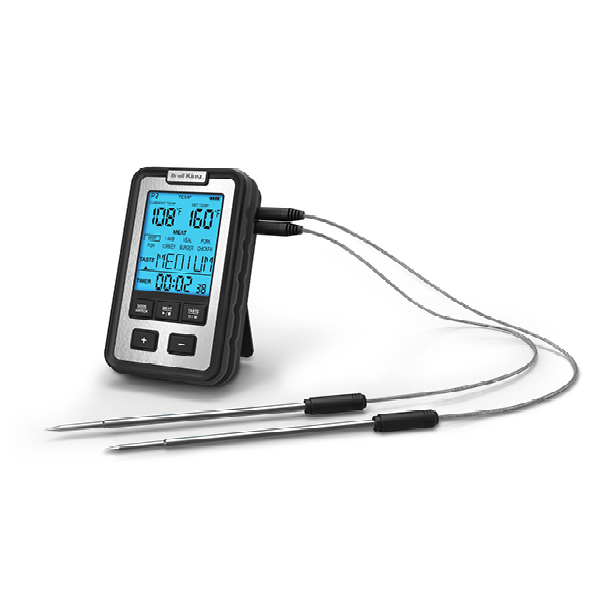 SIDE TABLE THERMOMETER
61935
Temperature is the best way to tell doneness but every time you lift the lid your grill loses heat and the cooking process slows down.
Monitor the whole cookout from outside the grill! The side-table thermometer's two probes enable you to simultaneously monitor the internal temperature for a cut of meat and the ambient grill temperature; without opening your grill to check inside. It has an integrated countdown timer and a wide range of target doneness for each cut of meat, or you can set your own target. Temperature range: approximately -50C – +300C (-58F – +572F) Grilled Asparagus and Prosciutto Spears
Rated

4

out of

5
by
old Salt 135
from
Time & temp!
I have used this probing thermometer twice now. The first time was on the BBQ cooking a T Bone steak that was 1" thick. I placed the probe at a low angle into the middle and selected a Med- rare cooking temp. I used the timer to alert me at 4 minutes to check the steak. Well at 4 minutes we had gone past the desired point. I flipped the beef and gave it a couple of minutes and set it aside for dinner. It never got to temp but the steak was medium cooked. I tried it again this time with a rare setting and 3 minutes on the first side. I had more luck this time and enjoyed my med- rare dinner. Trial and error tasing is needed to tune in this unit to your needs.
Date published: 2019-10-08
Rated

1

out of

5
by
dtb37
from
2 Thermometers both broken
Not happy with this. The first one broke after 6 months at the plug, so had to keep swapping the probes in the machine to get a reading for the meat and then swap back to get the reading for the bbq. Took it back and the shop said they would replace it and call me. They never did and by then it was out of warranty. Stupidly bought another one and this time when you turn it on, it gives no reading at all. Pushing the buttons won't switch it between P1 and P2. Totally useless after using only a few times. I don't bbq much so out of warranty. Not that it matters as they ignore you when it comes to warranty anyway.
Date published: 2022-06-17
Rated

5

out of

5
by
Alyssajoelle
from
Excellent product
This worked just as good as I thought it would! It was super convenient to be able to have two thermometers to use while grilling! This product gives you a piece of mind of knowing that you are cooking to the right temperature! Also was cool to show our friends while they were here for our cookout!
Date published: 2019-10-20
Rated

1

out of

5
by
Goodevans
from
Terrible cables on probes
Bought this a little over a year ago, and both probes have stopped working. There seems to be no safe way of storing them, any kink at all and they break. Would be a 5* product with better probes.
Date published: 2021-03-17
Rated

1

out of

5
by
Parson42
from
Wouldn't recommend
I pulled it out of the package didn't even use it and it has a bad probe out of the box
Date published: 2020-09-14
Rated

1

out of

5
by
Aj 40
from
Dead out of the box
I bought this to help keep track of the premium beef i bought locally.It just sits there showing all the items on the lcd. Beeps one time and illuminate blue.Has a plastic cheap feel to it, like a childs toy.The probes were the only upside, the wires are very thin and could easily break when used again.I have a crown cart 400 series that i am very happy with.This thermometer does not represent the american quality at all.
Date published: 2021-06-22
Rated

1

out of

5
by
Kathryn
from
The worst.
Bought 3 days ago and doesn't work at all. Total waste of money. Only good reviews are from people who got incentives, trust the one stars!
Date published: 2020-11-15
Rated

2

out of

5
by
Weisssan
from
Short Lifespan for Probes
I absolutely loved this product and wish I had a chance to use it more before the probes stopped working! Definitely a nifty little thermometer when it worked but not worth it if it works for less than a year. I'm disappointed and will be contacting customer service to see if there is anything to be done about it. (Will update if problem can be fixed without additional costs)
Date published: 2021-02-15