REGAL™ S 590 PRO INFRARED
958944 LP/ 958947
The Regal™ S 590 Pro IR features 625 sq. in. total cooking space including the stainless steel warming rack, solid 9mm stainless steel cooking grids, stainless steel Flav-R-Wave™ cooking system, 5 stainless steel Dual-Tube™ burners, stainless steel side shelves, illuminated control knobs, and an enclosed cabinet base. The powerful infrared side burner has a solid 9 mm stainless steel cooking grid and aluminum body.
55,000 BTU
MAIN BURNER OUTPUT
10,000 BTU
INFRARED BURNER
15,000 BTU
ROTISSERIE BURNER
625 sq. in.
PRIMARY COOKING SPACE
ROTISSERIE KIT
INCLUDED EXTRAS
BUILT IN LIGHTS
INCLUDED EXTRAS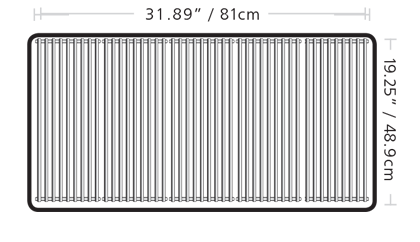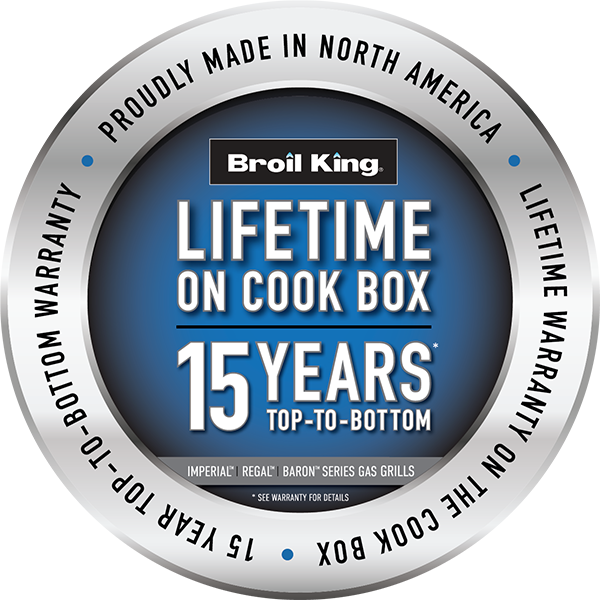 PERFORMANCE GRILL FEATURES.
Every Broil King is built with performance features that deliver unparalleled cooking versatility.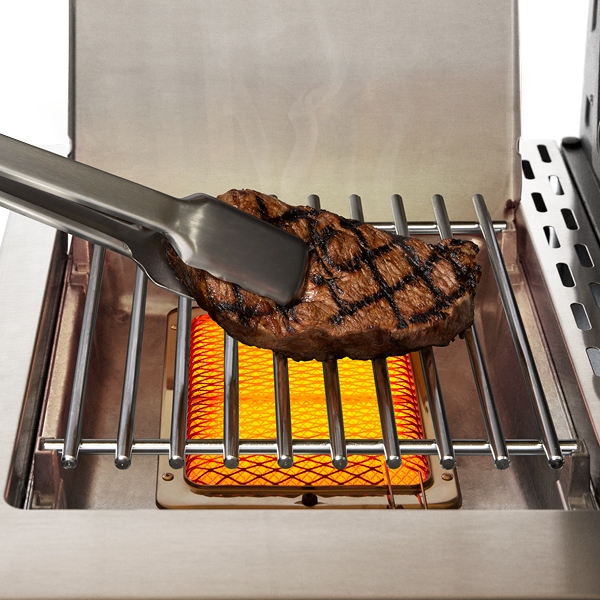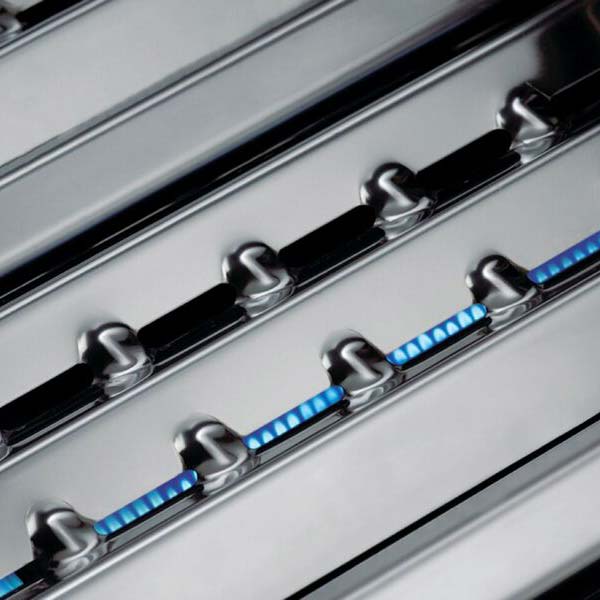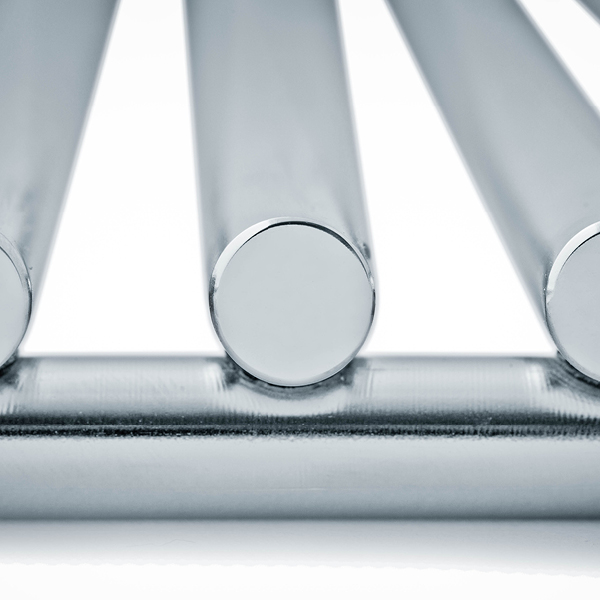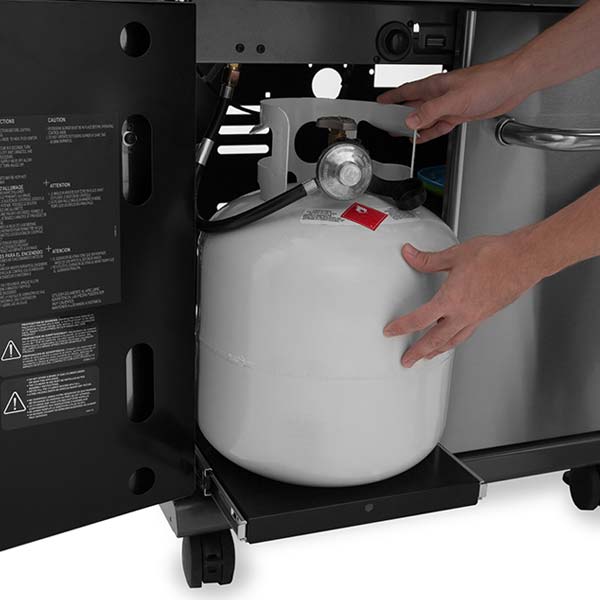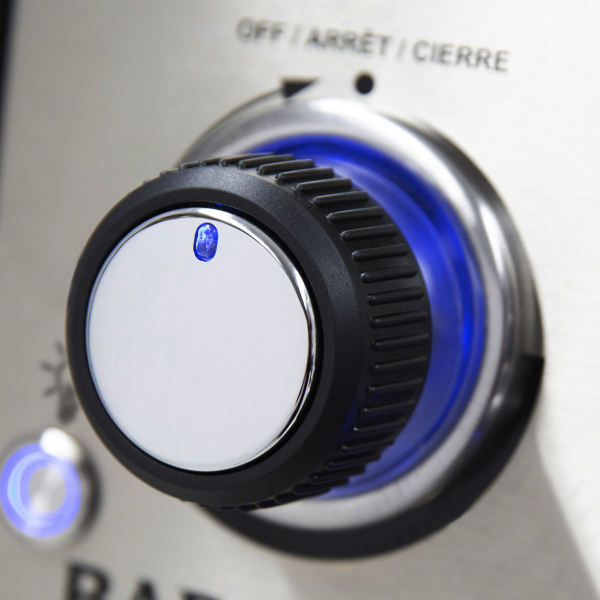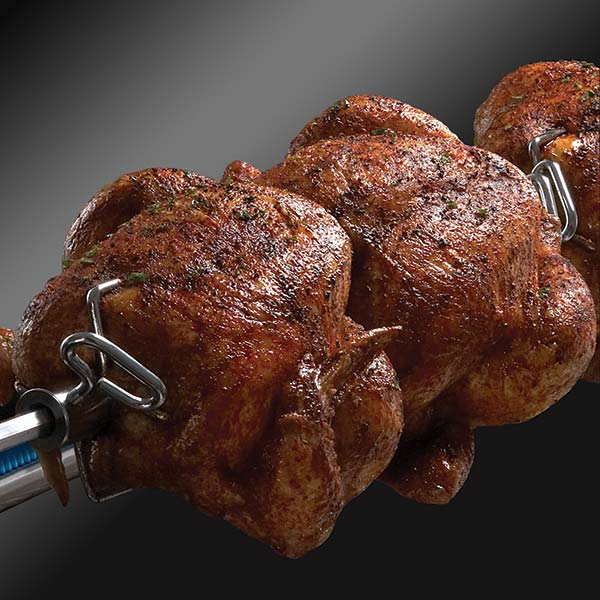 PERFORMANCE GRILL FEATURES
Every Broil King is built with performance features that deliver unparalleled cooking versatility.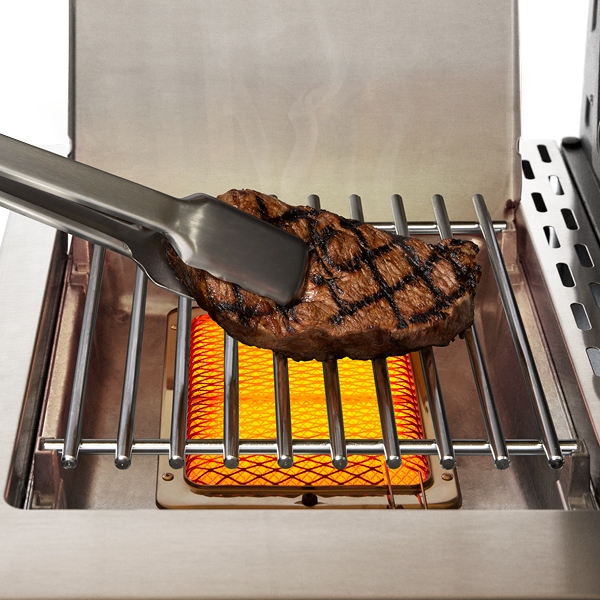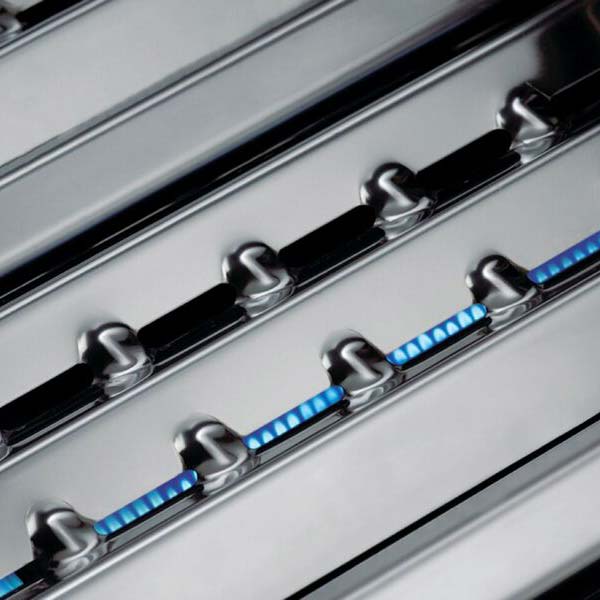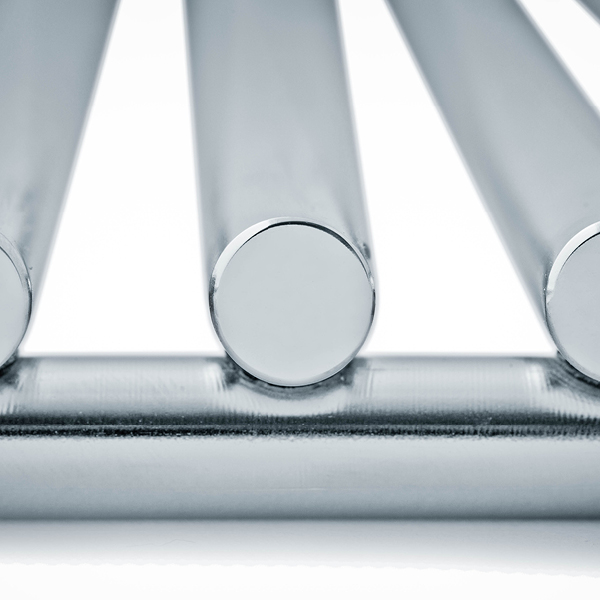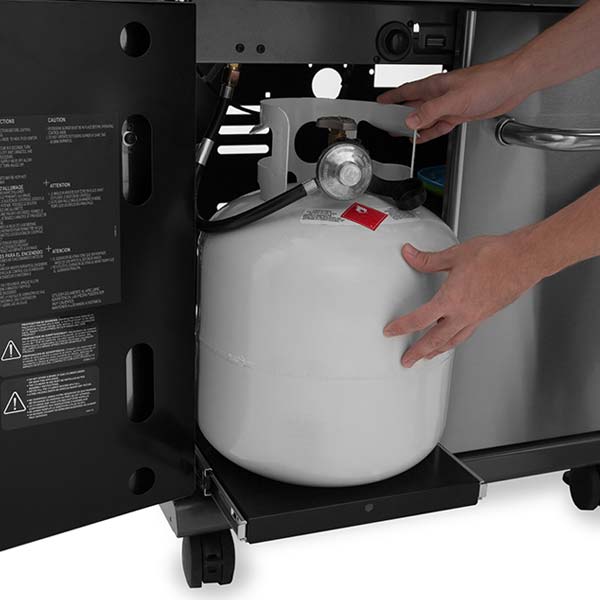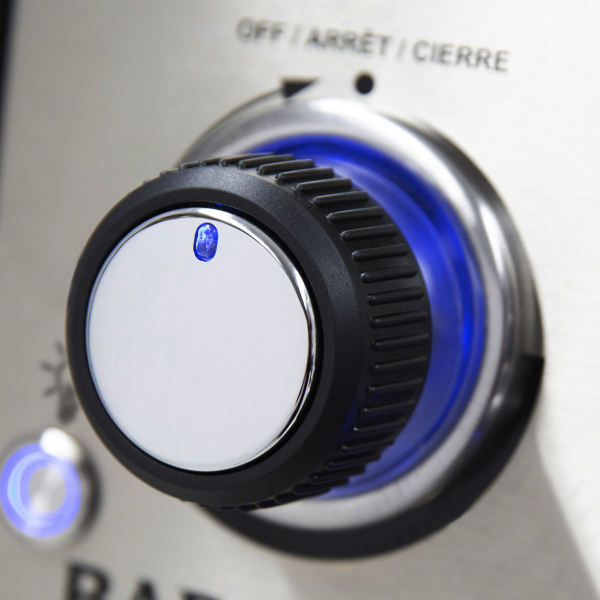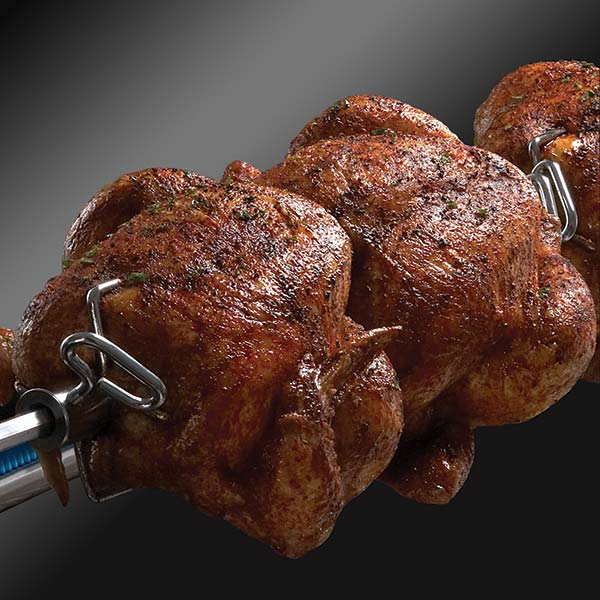 IDEAS TO GET YOU STARTED.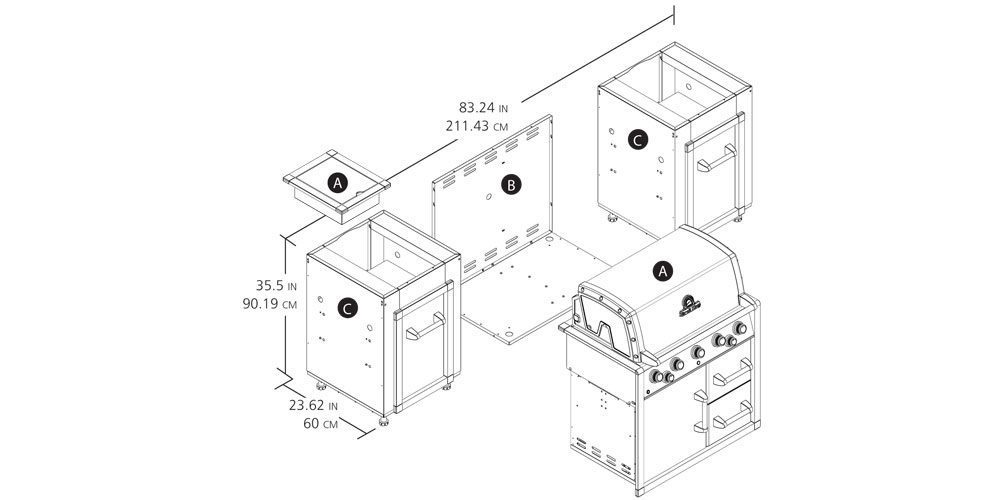 Rated

4

out of

5
by
RandL
from
Room for improvement
Something like a BBQ I like to use for awhile before rating it. Bought in June. I had a question just after assembling. Broil King customer service full marks for immediate reply. Assembly instructions were quite good, but some diagrams could do with clarification. Screws and stove bolts drive well giving a solid feel during assembly. Very sturdy when finished. Controls operate smoothly. Heats up very quickly. Heat distribution is very good over the entire cooking area. Grease keeps pooling inside the cabinet, streams down the left side panel and the outside of the left door. Grease tray seems well positioned and is kept drained. Side burner doesn't ignite. I consider these minor adjustments to be made. If I can correct them I'll give this grill a 5 *.
Date published: 2014-09-11
Rated

1

out of

5
by
Craig 334
from
Second Thought
I purchased a Regal SS490 in May 2014. After just over 3 years of service all 4 burners, the ingnitor bar, and evaporator grates completely deterioted. I contacted the warranty dept and submitted pictures for review. The warranty covered the burners but not the ingnitor bar nor the evaporator grates. On top of that the screws that secure the burners were completely deterioted requiring an almost complete disassembly of the grill box in order to replace the screws due to limited access. I am very dissatisfied with the fact only the burners were covered under warranty and the fact that the burner installation was surprisingly difficult due to the overall level of deterioration. Definitely would not recommend this product to friends or family considering the cost vs value aspects of the product.
Date published: 2017-06-09
Rated

5

out of

5
by
Corky
from
Better Second Time Around !
Our new Broil King Regal Pro was recently purchased after 10 years of faithful service from our last Broil King. We seriously examined the other two equally-reputable brands but remained with our brand due to reasonable value, past experience, and the fact that Broil King offer their top model(s) at only a modest premium. The last Broil King was not without "issues" .. such as a warped bowl and a quickly-rusted out metal catch plate below the bowl. However, we felt these weaknesses had been adequately addressed on the new top model (10 year burner warranty etc.) with changed design. Assembly was easier than many reviewers posted .. just go slow and FOLLOW the instructions. Yes, a couple of screws were difficult to align but not a big deal, and the lid pins required a hammer and WD-40 for me to insert due to post painting over holes during manufacture. (Note to BK .. alert customers to this in your instructions). Our first steaks on the stainless grid were amazingly well seared following very fast warm up. If anything, I will have to re-learn my temperature control tricks ! Finally, this model is totally North American-made .. no Chinese parts .. and THAT gives me an additional sense of satisfaction !!
Date published: 2015-06-04
Rated

5

out of

5
by
Daniel47
from
BROIL KING BEST BBQ GRILL
Few years ago I lost my Broil king in a very very small tornado. Everything was broke and I was so sad because it was a recent buy and I bought another brand because I was short of cash during those time and after 2 years of use it was a piece of junk. Now I came back with Broil King and I bought this beast 1 week ago(Regal S490 PRO) and now I start again to love the joy of making food on a nice bbq grill with no flare and no burn on the meat no need to stay in front of your grill watching your food because you are afraid to get you meat burn and I love the back burner for the rotisserie too. Sorry for my English because I'm French Canadien. Thank Broil King to give me the passion of the BBQ again
Date published: 2016-05-31
Rated

5

out of

5
by
Ziggy
from
Excellent Quality
The few months I've owned my Broil King have seen lot of rain so I've not had as much chance to enjoy it as would have liked. That said, I have been very impressed with it's weight and quality of design and construction. It cooks evenly and is easy to clean and generally maintain. The only issue has been in the design of the thermometer. The probe is crimped into the gauge head in four small spots. Tightening the display onto the lid easily pulls the probe out of the gauge, leaving it in pieces. I called Customer Service only yesterday and they immediately put another in the mail (awaiting arrival). Love it. Buy American.
Date published: 2017-06-10
Rated

5

out of

5
by
Johnny Grill-master
from
My Wife Loves Me Again 🙂
Bought this beauty just over a couple years ago after a move. The "boss" said if you're gonna buy a nice BBQ, you gotta cook for me more often. From beer can chicken, lobster, rotisserie chicken, ribs, baked brie, steaks, turkeys, prime ribs, wrapped tenderloins, potatoes, carrots, flattened chicken, basil wraps, burgers, chickens, to a variety of other meals this grill is amazingly consistent on the heat, and gets darn hot, easy to keep clean and a real joy to cook (entire meals) on. And that it's built in North America is a plus.
Date published: 2019-10-25
Rated

5

out of

5
by
Anthony Francis
from
Assembly Minor Detail
The only problem assembling the B-B-Q was with shelf located inside the B-B-Q behind the doors. The holes on the right panel / wall (at approx. 16" centre to centre) did not line up with the shelf holes (at approx. 15" centre to centre). The shelf was still sturdy with just the one bolt but it took a bit of time to figure out which bolt to leave out. Another issue I found was the top rack was a little unsteady. The top rail could be longer by 1/4". Something I hope won't cause to many problems. Overall very pleased with the quality of the product and workmanship.
Date published: 2015-05-21
Rated

2

out of

5
by
Tuftsy
from
Nice but disappointed....
On our 3rd month with this BBQ, Use BBQ 3-4 times a week minimum..pros- easy tank pull out a hit to turn gas on and off and stainless steel finishcons- outside grill not powerful enough and blows out easily. The no draft on main BBQ feature is great idea but MAKES ALL COOKING SMOKE BLOW BACK INTO YOUR FACE!!!! Know for sure the electric starter is not going to last the year as getting weak already(replaced batteries as well)Stayed away from Broil King as had one YEARS ago and same thing...looks nice but cheaply made!! The warranty is there and i know for sure am going to need it for entire BBQ...for $1299 this should not be the case...guess there is $700 for warranty and BBQ is only worth $500-$600 bucks. This will be last Broil King i buy and will go back to Coleman...this is after i use out of warranty if the whole unit even lasts that long.
Date published: 2017-06-11
Rated

1

out of

5
by
Gorrie
from
Poor quality Regal 420
We purchased the Regal 420 . To make sure the BBQ was assembled properly we bought it fully assembled fro the dealer. After 1 season the cook box warped so badly I had to buy square tubing to hold grills from falling in, the grills rusted so bad they fell apart (I seasoned them as instructed), & the paint on outside of box flaked off in large chunks. I fought with customer service for months till they agreed to cover the cook box. They sent me a complete cook box but the dealer would not do the work to change the box. Because he said it would be too much work and other parts would probably break while taking the BBQ apart. Now I always cover the unit with a heavy gauge BBQ cover (recommended by dealer)always and cleaned it regularly .I may have just got a bad unit. But it has made me question the quality of the brand and I will move on to another brand this year.
Date published: 2017-04-23
Rated

4

out of

5
by
Davek
from
Good purchase.
I did a lot of research before buying this because I wanted a back burner w/ rotisserie and high BTU burners. Shipping was fast and assembly was aided by the incredibly simple 'pictures only' instructions. Another thoughtful item was the pre-positioned screws that some parts were made to hang on 'keyhole' openings while the other screws were inserted, then those were tightened. The box weighed 188 pounds, I used a cart to move it to my rear patio for assembly, after that it was fairly easy.Okay, on to cooking, I have done one rotisserie turkey breast, some burgers, chicken parts directly on the grill and some steaks. This works as advertised, the burner controls are very precise and heat can be as hot (600F) as you need for searing, or lowered for chicken. With 4 lower burners it is easy to control. The lid is very tight and is great when using the rotisserie because the temperature can be closely controlled. I also am pleased to have purchased something 'made in America'.I am not crazy about the lower side panels, they are not very attractive and full of openings.
Date published: 2014-09-13
Rated

2

out of

5
by
Joe2000
from
Why does it make that sound???????
The barbecue cooks really well and is gorgeous to look at BUT it makes a really loud clanging and rattling sound everytime you walk near it. Out previous regal barbecue didn't cook as well but never made any sort of strange sound. Frankly it's embarassing, annoying and sounds like we are at a steel mill. Even our neighbours have complained becuase the clanking is that loud. It seems to be the way the flavour savour waves sit on the barbecue but I'm not sure. All the components are made of what appears to be aluminium and they rattle like crazy. So dissapointing and not worth the1500 paid for it
Date published: 2020-06-14
Rated

5

out of

5
by
ChrisB
from
Excellent Value
Initial impressions. Very, very solid. The solid steel rod cooking grates are very heavy and impressive. Initial burn off reached 700+ degrees in about 7-8 minutes with an ambient temp of about 50 degrees. This is one hot grill. Looks made to last. Time will tell. Warranty is 10 years on the burners.
Date published: 2014-05-27
Rated

4

out of

5
by
Tugger
from
Features
Love the rotisserie feature with the rear burner. In fact have used it just as much as the main griller. Bought this product in August and absolutely love it.One suggestion I would have : make the slight feel between High and shut off more pronounced when turning the control knobs from low to high.
Date published: 2016-03-06
Rated

5

out of

5
by
That guy
from
Mind blowing
This is an amazing product, exceeds expectations. The heat range and the speed at which it gets to peak is phenomenal. All the added features really make the grill feel exotic. The light up knobs and movable gas tank seemed like options I didn't need, but once you have them you could never go back. This was such an upgrade I threw out all my old utensils and bought new tongs, flippers, Rotisserie, cleaner brush, grill cage. My recent purchase was the timer/light that goes on the handle. Love it and I bought it 3 weeks ago barbecued almost every day since. LONG LIVE SUMMER thanks Broil King!
Date published: 2020-07-14
Rated

3

out of

5
by
Adam H
from
Flawed design
I've held off on a writing a review on this BBQ for almost a year but have decided to now because of this issue. The BBQ itself is great, well made, solid manufacturing, consistent even heating but one flaw in my opinion. The casting, or box, has this odd design that makes the upper half of it curve over the grilling area. This makes the smoke constantly blow back and into the face of the user all the time. Wind or no wind it makes it almost unbearable at times to concentrate on what you are doing because your eyes are irritated and watering. It's unfortunate it's like this because I love to BBQ and I know Broil King is a reputable name and makes quality products but this issue needs to be known.
Date published: 2020-05-04
Rated

5

out of

5
by
EjL64
from
Awesome Grill !
This grill is a well constructed solid grill. The slide out drawer for tank changes is very convenient. The heavy duty stainless steel grates are excellent and easy to clean. The burners heat the grill very quickly (the burn in took the grill 7-8 minutes to reach 700 Deg). The burners are also heavy duty stainless guaranteed for 10 years. Very pleased with my purchase at a reasonable price for the high quality.
Date published: 2015-06-04
Rated

5

out of

5
by
Sienna
from
Can't wait for summer
I bought my Broil King at Christmas and because of winter weather have had only 4 occasions to use it. Very happy with the cooking results. Like the over all appearance of the unit and all the features. The Broil King cover a solid perfect fit.
Date published: 2016-03-07
Rated

5

out of

5
by
Swich
from
If you can't handle the heat....
....don't get a Regal! Amazing heat. The steaks cook so well. Heats up so fast and stays hot. If you are not used to a Broil King - Regal, like I wasn't, be mindful of that heat. Once you get used to it, you will love it.Only thing that would be great is if they had pans that you can clean right under the grill. My last BBQ had this, I never had a flare up. With the heat of this BBQ if you are cooking something fatty or marinated it in olive oil, watch out. Flames a plenty.
Date published: 2015-10-19
Rated

4

out of

5
by
the dude
from
awesome grill
Overall this grill has been awesome thus far. Haven't done a long-term smoke on it yet but have cooked up just about everything else with great results. I would give 5 stars but ran into two items: 1. Two of the little silicone feet that stick into the bottom of the lid broke off during shipping. Not a huge deal as these don't outwardly appear to required in order for the grill to work. 2. Even with just the two outer burners turned on, the grill seems to run a little too hot (around 335-ish degrees) which is why I haven't tried to cook up a big pork shoulder on it just yet. If this grill is anything like my older one it'll run a bit cooler after some wear and tear though.Things I liked: 1. no side burner (who actually uses that anyhow?) 2. stainless steel grids. 3. thick walls in cookbox to hold the heat in and keep heating more even. 4. Also, the cutouts on the side walls are smaller so that not as much cooler air seeps in. very important when you live in a windy/cold area like i do.
Date published: 2017-06-07
Rated

2

out of

5
by
ryansj04
from
Grill Construction Issue
I purchased this grill and after assembling it, found that the doors were misalligned. The frame apears to be twisted or something. Customer service has sent me new casters and I have changed them all. I still have the same problem. Now they are talking about sending new hardware. I Love the grills performance and the overall look but if the overall construction is not sound the longevity of the grill is questionable. I will update this review once the grill is fixed.
Date published: 2014-10-08
Rated

5

out of

5
by
HOJO
from
Great Grill!
The Regal 420 is my second Broil King, it is an awesome grill, better than the first, the burners are much easier to adjust and provide better temperature control. The grill is almost 3 years old and still works and looks like new!
Date published: 2017-04-18
Rated

5

out of

5
by
ssirica
from
Love This Grill!!!
I purchased this grill from a local specialty grill shop about a month ago and I am very glad I did. I was in the market for a grill to replace my Weber Summit Platinum series, which was 13 years old and in perfect condition (I lost the grill in a divorce). When the local shop owner asked me what I was looking for in a grill, I told him one as good as my Summit. Looking at the quality of the new Webers and Napoleons, it was evident I would not be happy with them and would soon be replacing burners and cooking grates. This Broil King is absolutely fabulous. The quality of the steel is just what I was looking for. The amount of heat it generates is impressive. I have been using it every night and the kids and I are thoroughly enjoying the meals. I highly recommend this grill to anyone who appreciates quality grills - you will not be disappointed.
Date published: 2014-06-12
Rated

5

out of

5
by
bbq4life
from
My dream came true
Just bought this bbq and I am soooo pleased with it. The temperature control is near perfect with no flare ups. The stainless steel grills are awesome. Just beautiful. Made in north America to boot.
Date published: 2017-07-30
Rated

4

out of

5
by
tendsley
from
Looking for steak grilling advice.
Love my new grill top quality very professional feeling!!! My only problem is I love to have my steaks cooked medium rare towards rare. I'm usually cooking 1 inch thick steak ribeye's. I've done as instructed in the booklet and my way of cooking around 475 -500 @ two minutes per side and then resting for a few minutes. They're just a little overcooked for me. I'm getting frustrated and wondering if I should have bought a model with the sear burner. Is it possible to add one? I have a model 490 Pro. Otherwise love this grill top quality!!!
Date published: 2020-06-28
Rated

4

out of

5
by
Greggg
from
Love my grill!
I have owned this grill for a couple of months and use it a couple of times every week. Excellent grill! There is a bit of a learning curve, med. rare steaks are a breeze (beautiful and delicious using med/high heat), use a thermometer and lower heat for other meats. Smoke chips wrapped in foil for a roast was amazing! My friends own Webers and I bought this to try something different(and less expensive), glad I did. I havn't cooked a bad meal, have had many great meats and the Broil King S490 inspires me to achieve grilling the perfect meal!
Date published: 2016-06-02
Rated

1

out of

5
by
rmgtaggart
from
Peeling paint on lid
3 year old Broil King Regal with paint flaking off lid, not covered under warranty?? Poor product quality Broil King, you have lost a loyal customer
Date published: 2018-10-26
Rated

5

out of

5
by
Cougrnut
from
Super grille
I had many brands before, but this is head and shoulders above the rest. It sears and grills steaks and chicken like nobody's business. The only improvement that I see it needs is flare ups with hamburgers and greasy sausages/brats. Despite the the slotted heat and flavors trays below the the grilling bars, the grease and flames make their way through the slots. If there were a sheet of perforated stainless (round holes) that set in just below grill, ot would prevent that and allow juices and flavors to vaporize and heat to come up without the opportunity for the flames to come up. Otherwise, this is a top notch grille with all stainless steel construction. ...truly awesome. I can cook friends steaks rare, and medium rare with a beautiful sear on outside. It works great and easy to clean. I no longer have to use a wire brush, just some paper towels and a scrubby sponge with some water. It is great!
Date published: 2017-06-10
Rated

2

out of

5
by
Maik56
from
Poor quality
I have bought the Regal 490 in 2015. the lid has been replaced after the first 18 month as pint peeled off. Now 2 1/2 years later the paint on the lid is peeling off again. Considering the price of $1900 Au the bbq it's disappointing. The bbq was always under cover and covered, not been in the sun or other weather conditions. Contacted BroilKing and been advised I can by a new hood for $130 as out of warranty.Thanks BroilKing for such a quality product. Next time I by a Weber as better service and quality.I will never b
Date published: 2020-06-02
Rated

5

out of

5
by
QeePan
from
Regreted NOT to buy this grill a lot earlier
Used to be stuck on my old grill...(10000-year old Broil King from my dad) moving food around because two of the burners broke long time ago. Was thinking about a cheaper grill and my wife convinced me into buying this one. Guess what? I LOVED IT!!!Everything works perfect, and like a breeze. My wife and kids were happy seeing me dancing in front of this grill and cooking~~~
Date published: 2014-06-11
Rated

2

out of

5
by
psect
from
50/50 on this grill
I bought this grill two years ago from a box store and it came assembled. Some parts were damaged and I was surprised the even got past quality control. Broil King sent me parts which I have replaced. I am. It happy with the way it cooks. The two burners on the left cook way too hot even on low. The grates are rusting and I need new ones to replace them.
Date published: 2017-05-07