REGAL PELLET 400 SMOKER AND GRILL
495051
The Regal Pellet 400 pellet grill body is constructed from 2mm (14 gauge) steel, has 500 Sq.in. (3,226 Sq.cm.) of primary cooking surface, 130 Sq.in. (839 Sq.cm.) secondary cooking surface and heavy duty cast iron cooking grids. That's 225 lbs. of grill right out of the box. The Wifi and Bluetooth® enabled digital controller provides enhanced temperature control to smoke, roast or sear. The controller display panel is the easiest to read while grilling, check the competition. This innovative product comes fully equipped with a powerful auger, 22-lb capacity pellet hopper, removable grease management system, unique ash management system, deluxe rotisserie kit, 2 electronic meat probes, and base storage and side shelf.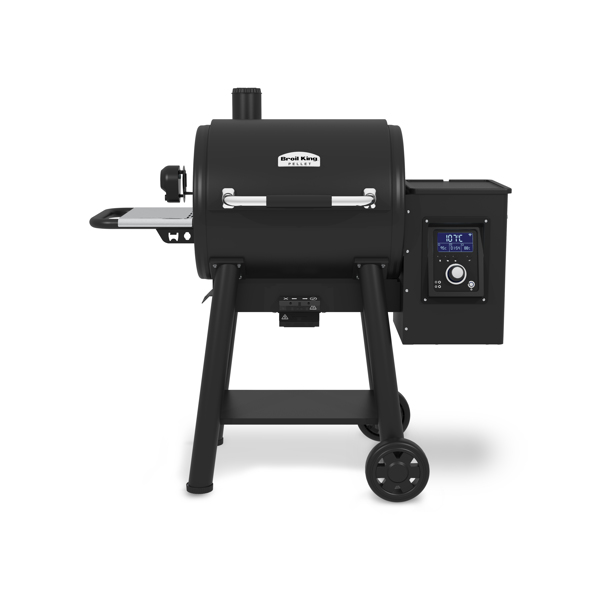 690 sq. in.
TOTAL COOKING SPACE
600F / 200F
MAX/ MIN OPERATING TEMP
4 PIECE
CAST IRON COOKING GRIDS
ROTISSERIE KIT
INCLUDED EXTRAS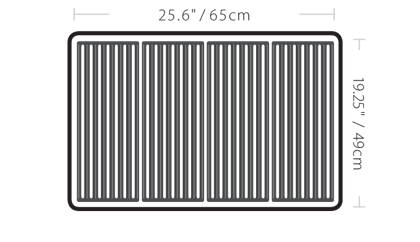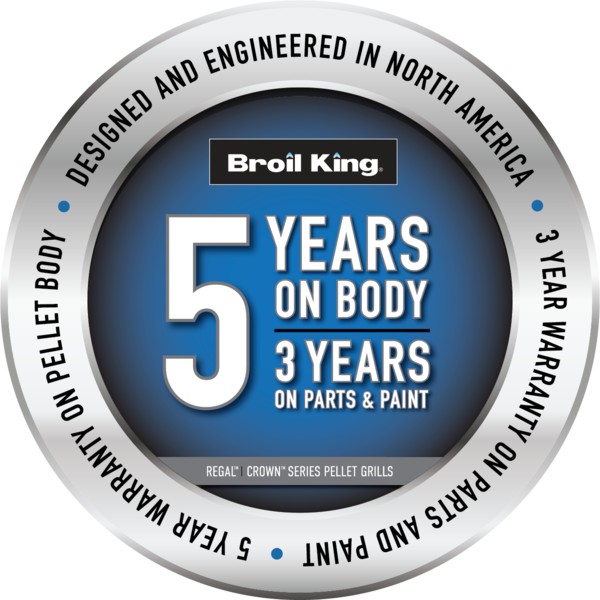 PERFORMANCE GRILL FEATURES.
Every Broil King is built with performance features that deliver unparalleled cooking versatility.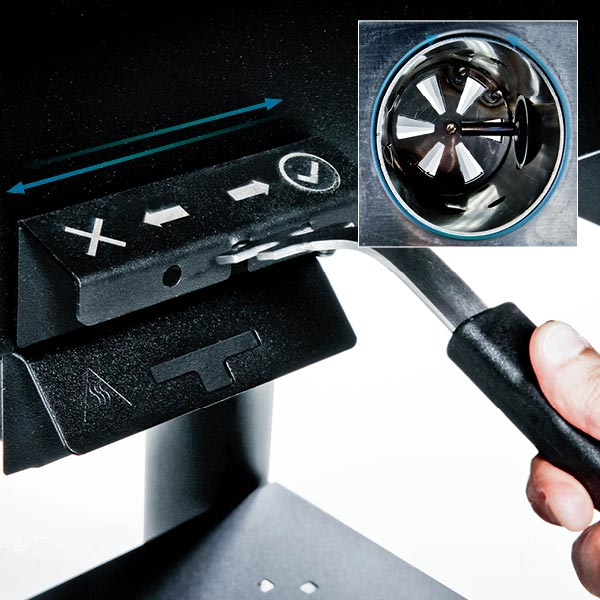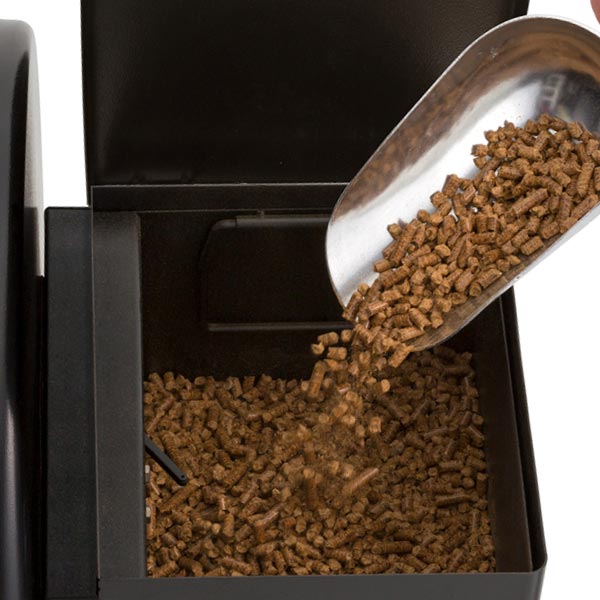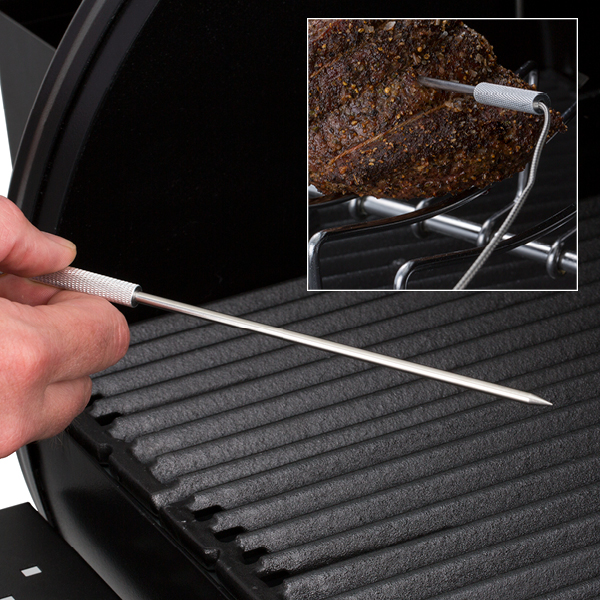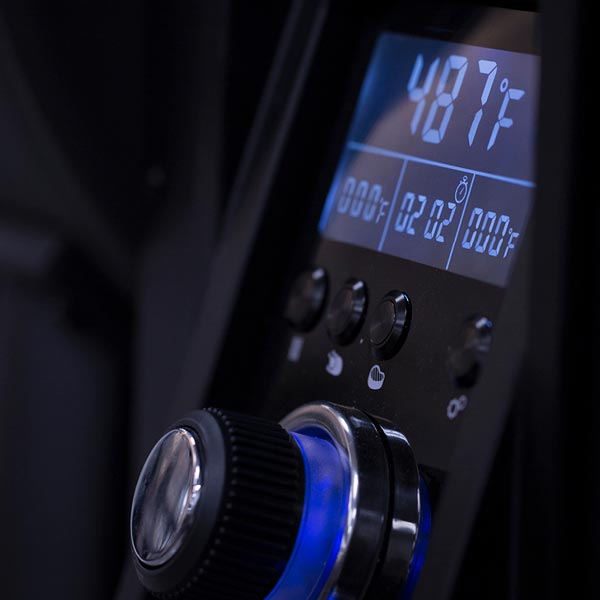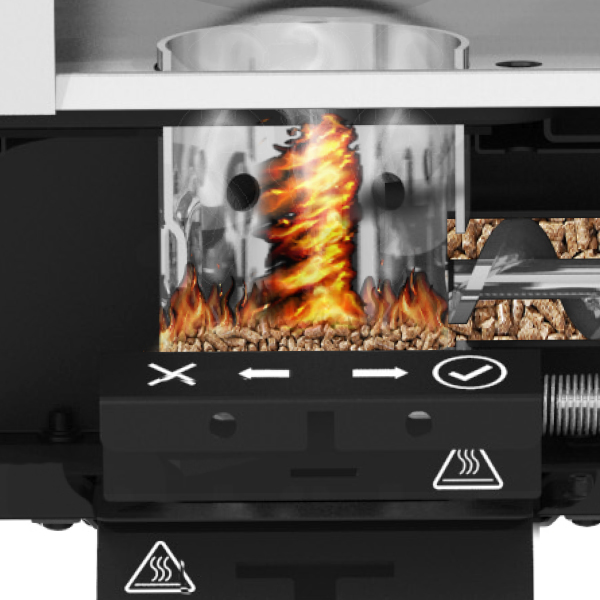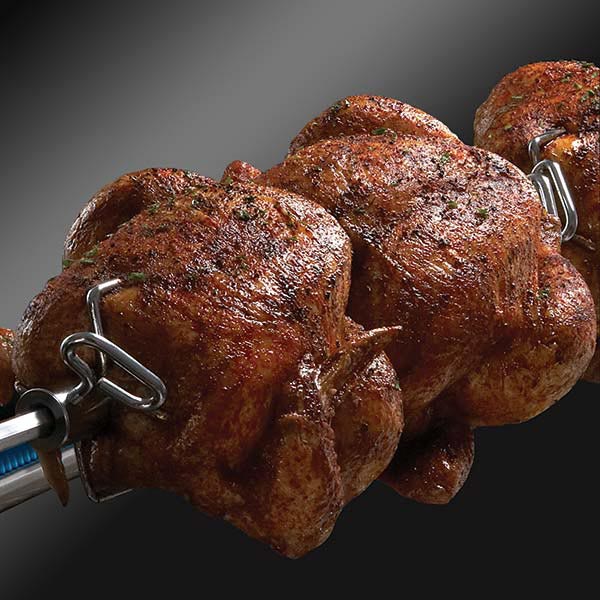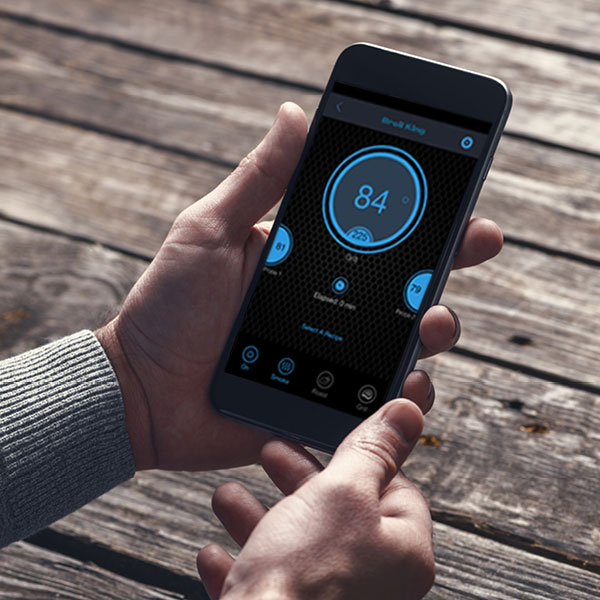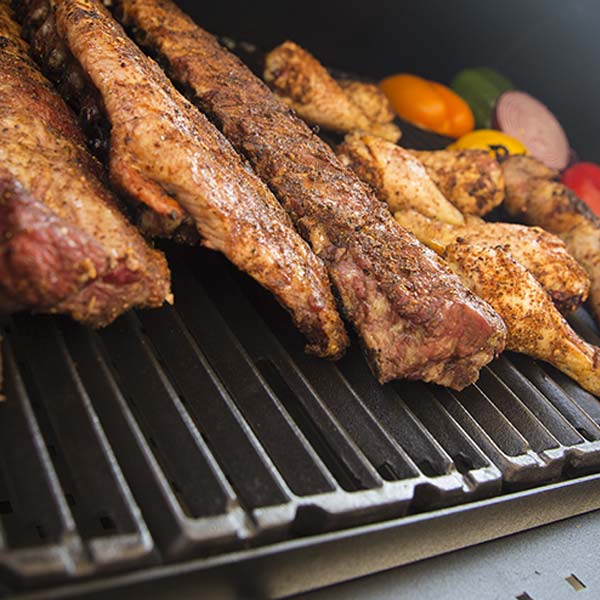 PERFORMANCE GRILL FEATURES
Every Broil King is built with performance features that deliver unparalleled cooking versatility.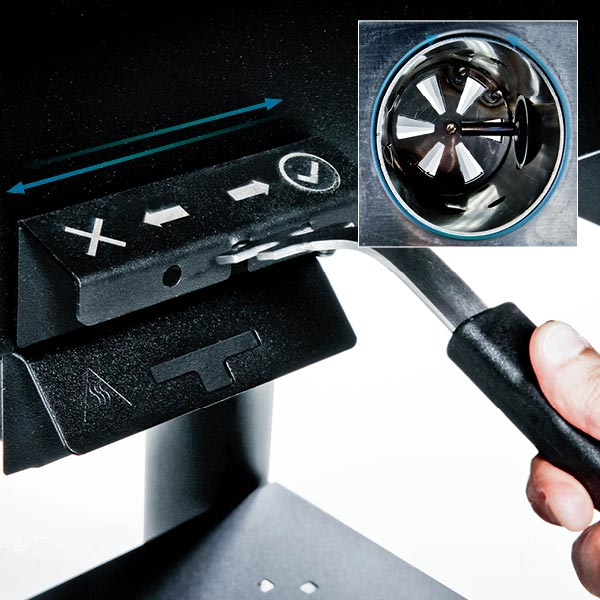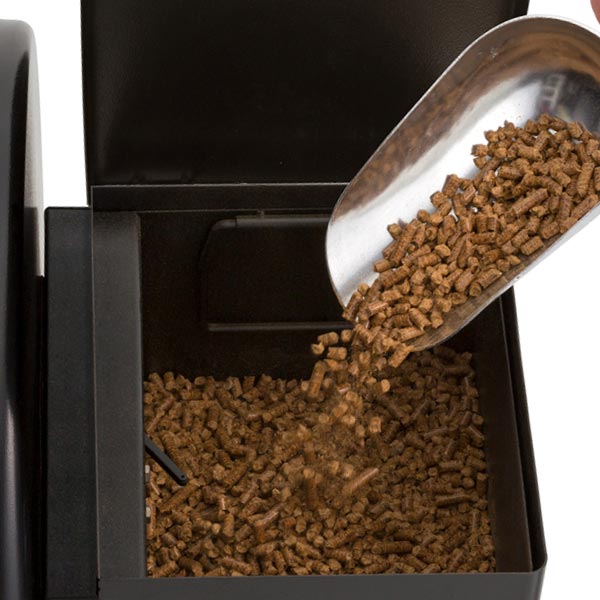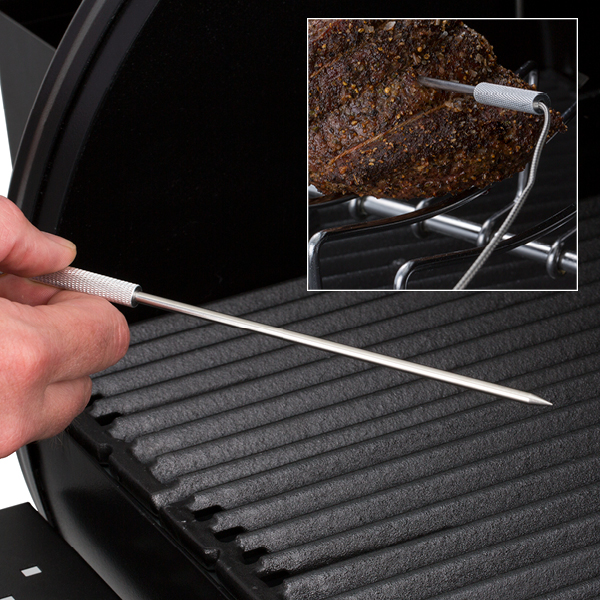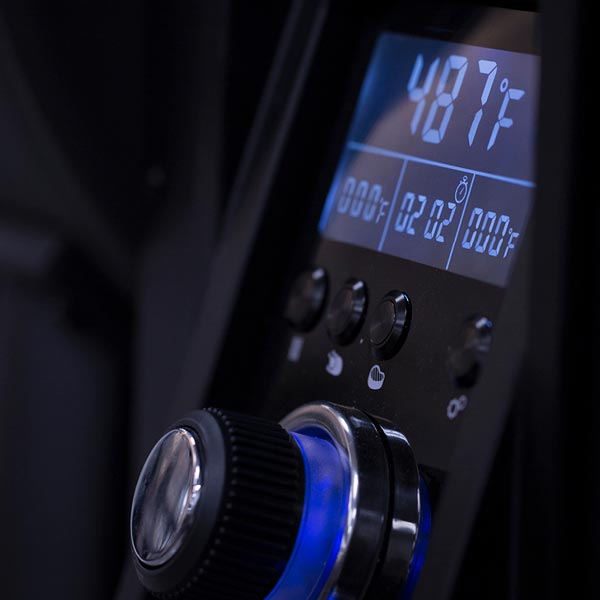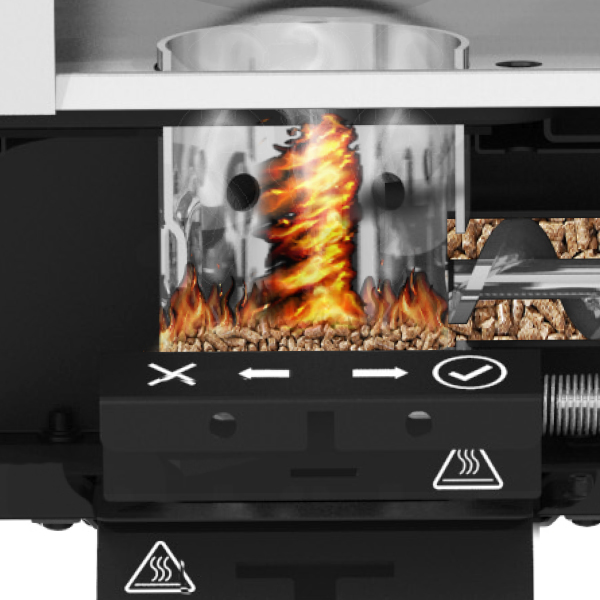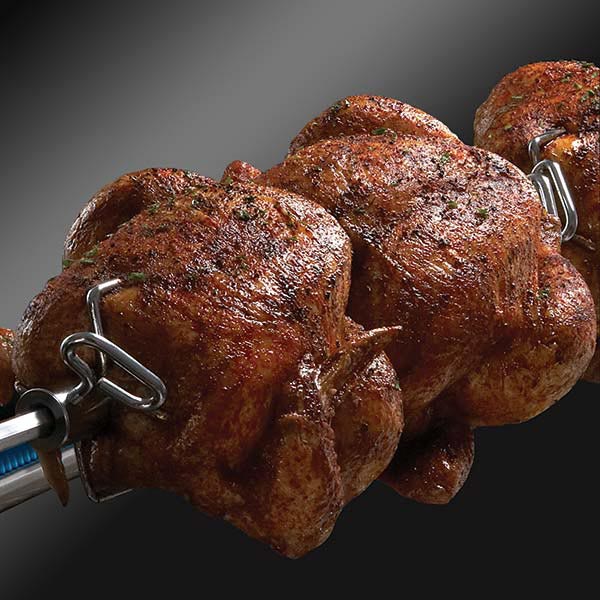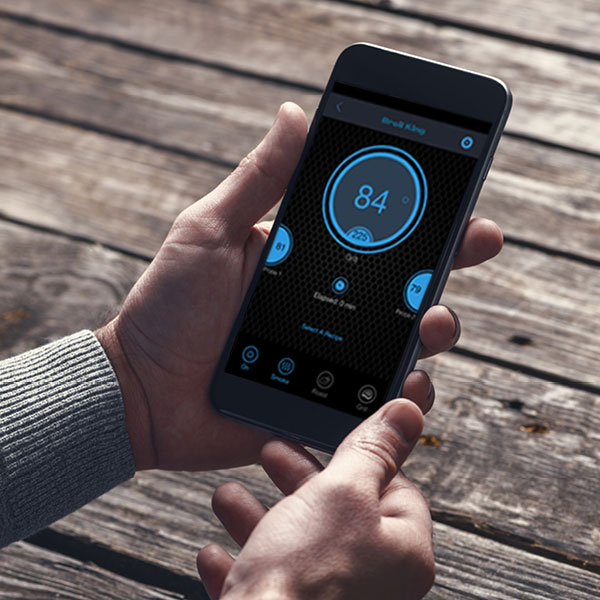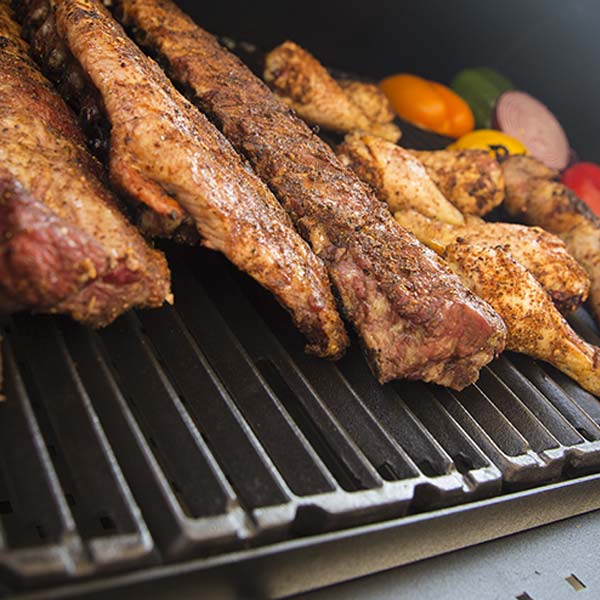 IDEAS TO GET YOU STARTED.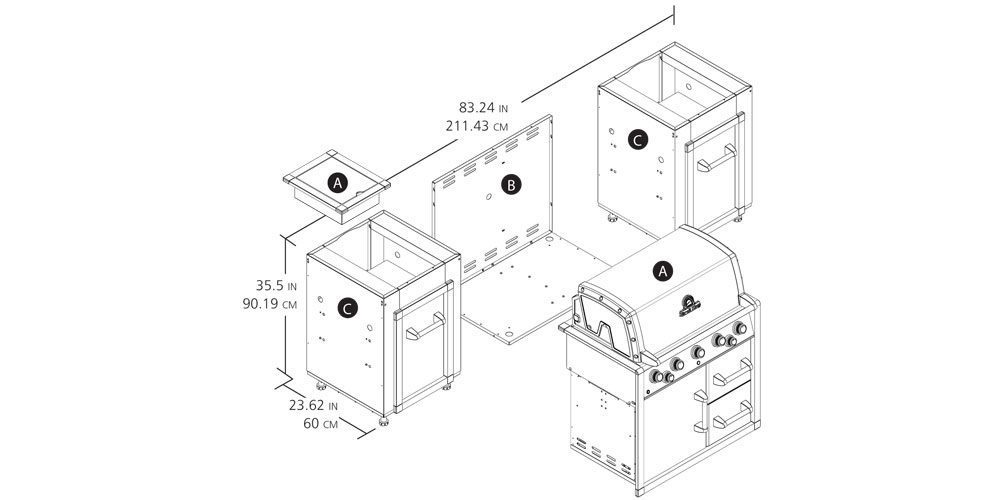 Rated

1

out of

5
by
jojacques
from
Shame on you BK
So sad I spent my money on this grill (on a BK in general). 1- Temperature is very low and inconsistent with 3rd party thermometer. Grill shows 350F, thermometer shows 200F. Takes forever to cook the food. 2- After 6 months, already had to contact BNK to get a replacement controller and temperature probe as both were defective. 3- The "smart" feature of this grill is a total joke. Works 50% of the time and app wont allow to control the grill, you can only see the temperature. Exchanged multiple emails with Tech support and still wont work. 4- BK support staff is incredibly rude.Go spend your hard earned money on something else
Date published: 2022-09-09
Rated

1

out of

5
by
BFraser
from
Defective parts replaced - it still failed.
This grill is the worst item I have bought in a very long time and a major waste of time and money.The auger has jammed multiple times. I live in Toronto and there isn't a single dealer within an hour drive who stocks Broil King Pellets which they recommend. I spent a few hours taking it apart to un-jam the auger and replace a defective controller and I only bought the Grill Dec. 26. I have also ruined over $100 worth of meat.The construction is good and will easily fool you into thinking it is quality but the quality stops at the double lined lid and cast grills - the main functional components is where it fails. If you switch from grill to smoke, the auger slows down but the pellets in the auger start to burn and it jams up. The end of the auger is too close to the burn box. This is a fatal design flaw.
Date published: 2020-01-09
Rated

5

out of

5
by
nobsbbq
from
Complete Satisfaction
As a long time BBQ fanatic,and co- host of a BBQ cable TV show, I'm completely impressed with the Smoke Pellet XL, having owned another brand, Broil King has blown away the competition. Bravo Broil King, it was worth the wait!
Date published: 2019-05-30
Rated

5

out of

5
by
Clint from Kitchener
from
BUILT LIKE A TANK & CONSISTENT FULL RANGE TEMP
I needed a 2nd smoker and decided to try the Broil King Pellet XL. I recently purchased another brand and wasn't satisfied with the overall performance so I decided to try the BK pellet and it's been fantastic! I love how quick it heats up, the consistency of temp, the cast iron cooking grates. I also want to give a huge shout out to the firepot ash release which allows me to start each session with a clean firepot without having to take the whole thing appart. I am really really impressed with the easy to use/read display AND YOU CAN PROPERLY SEAR & COOK STEAK!!!! This is something I have not been able to do with any Pellet unit in the past. Hats off to you Broil King for this quality product. So glad I was able to find a unit that does everything I want and I am able to support a local business at the same time!!
Date published: 2019-04-30
Rated

1

out of

5
by
Thefraserlife
from
Completely dissatisfied
I bought the grill a few weeks ago and have had nothing but issues. After the burn-in, the auger jammed. Once cleared the temperature control was erratic and would not keep constant pressure. Apparently they have a known issues with the controllers but they are back ordered for an undetermined amount of time. I spend a significant amount of money on something that is inoperable for an undetermined amount of time and I am not impressed.
Date published: 2020-01-04
Rated

5

out of

5
by
GasTech
from
Perfect so far
I have used it 4 times. 2 beef briskets, whole chicken on the rotisserie, and some very thick beef striploin steaks. Grill has fantastic features and options that come with it. Wifi is a bonus with 2 temperature probes that can be seen from basically anywhere. Only issue so far has been moderating the temperature. There seems to be a plus or minus factor of 40 degrees. I had prepped my second beef brisket and despite ideal outdoor weather conditions, I struggled to maintain a constant smoking temperature. I was constantly checking it. The hopper bucket is fairly large which is a bonus. On average the augers pulled in about a pound of pellets per hour at the smoking temperature which varied between 175 and 250 degrees despite having the smoke button dialed in. Although the grill is solid, I noticed that it was made in China? Fortunately BK stand behind their products, so it shouldn't be a problem?
Date published: 2019-09-17
Rated

5

out of

5
by
Groz
from
Amazing Grill!
I was debating a pellet grill for a while! I have a Keg and loved cooking on charcoal. I thought this is the best was to cook food, until I picked this unit up! Wow the best chicken and food I have ever tasted. The features are amazing. Wifi and Bluetooth work perfectly. No need to constantly keep going out into the cold to check temperatures. Definitely happy with my investment! Now I have the best of both worlds. Charcoal and Pellet! Thanks Broil King!
Date published: 2019-12-30
Rated

1

out of

5
by
LdLsmo
from
Terrible design
6 months into a run around. Can't get more than 450 degrees inside and LED readout shows 600. With the 225 degree button, it reached 195 and no more. Customer service keeps blaming me for their, like I can't read and follow instructions. Big mistake, this is an absolute piece of junk!
Date published: 2019-12-23
Rated

3

out of

5
by
etattersall
from
Temperature fluctuations
I took delivery of my BK pellet pro a week ago. This past weekend I used it for the first time. I did ribs, the 3,2,1 method. I set the grill at a smoke temp of 210F, waited for it to warm up properly before I put the ribs on. The next thing I know, the temp has risen to 225F and stayed there for at least 20 minutes, then it dropped to 189F and stayed there for at least 20 minutes. The temp kept fluctuating through the whole process. The result was dried out, tough ribs. Not at all like I used to get from my other pellet grill. I am very disappointed. I bought this grill because I liked the new features the BK added, like the ash removal system, the cast iron grids, etc. I have always been a BK fan ( I own a BK Imperial 590, which I thought this would be a great mate for). I contacted Broil King about this problem, thinking it may be a faulty controller. there response was that fluctuations, of up to 30F, are normal under ideal circumstances. How are you going to cook great food with this kind of temperature fluctuations?
Date published: 2019-07-04
Rated

1

out of

5
by
tsoupy99
from
Horrible temperature can't trust it.
Would not recommend. Very frustrating. Cooks way to high. You can hear it feeding pellets even when it's 60 degrees too high. Had a pork tenderloin on and after an hour and a half looked and it was cooking around 300 not 225 it was set at. Trying to solve this problem. Spent almost $2000 after taxes and really kicking myself now. Hopefully broil king will help.
Date published: 2020-07-15
Rated

2

out of

5
by
Smoker230
from
Constant jams
I bought this a year ago expecting great things from it. It started off well, it's well build and insulated well but has frequent jams. I have had to remove the auger 4-6 times . I use broil king pellets and store them in a dry place. This is not a good enough product for the cost. I have ruined two pork cooks and another defrost of moose sausage, pork ribs, and chicken wings is now relegated to the BBQ because of the jams.This is not good enough for the price.
Date published: 2020-02-09
Rated

5

out of

5
by
Ricky69
from
This is the smoker of my dream
This grill is exactly what I expected from Broil King. I hesitate between the 500 pro and a treager but I'm sure now I make the good choice. The quality of this product is incomparable and the application for using it anywhere work great . I talk to David Cowie , this guy is a true genius who help me quick and easy for the connection between my grill and my phone. The customer support is very good and everything work fine . I highly recommend this product for the real one who want the best of broil King can give
Date published: 2019-08-09
Rated

1

out of

5
by
Ripped Off
from
Don't buy this!
I've owned this for this for two months and I've been able to fully cook my meal on it only once. I've been embarrassed several times when I had company over for dinner and it wouldn't work. The Hot Rod part has been replaced twice. Broil King will not let me return it and they will not offer any support or help to try and get it working. I spent $1200 and I'll be taking it to the dump
Date published: 2019-11-11
Rated

1

out of

5
by
RP52
from
Junk
I bought this smoker about 4 months ago. I cooked burgers on it twice and smoked a roast, and after that I couldn't get it to heat up. I called and they sent me a new hot rod, I put it in and nothing it would not get hot, just kept putting pellets in, I called and they sent me a new control panel and temperature sensor still nothing. I called again someone told me I was using the wrong pellets even though I tried telling them it wouldn't even light I'm sure that had nothing to do with the pellets. I bought new pellets nothing. Called again and am currently waiting for another hot rod. All they will do is replace parts, which would be great if it would work. I asked the last person I spoke with about trying to trace the voltage and they knew nothing, I'm ready to take it to the dump.
Date published: 2020-07-19
Rated

4

out of

5
by
JonZ
from
Loving it so far
We've had the regal for three weeks and used it a five times so far. Solid construction, easy operation. Mixed results with off brand pellets, but flawless with Broil King brand. I loved the high heat searing option for Picanha steaks. My only complaint is the included meat probes have horrible accuracy. Compared to my calibrated thermapen was at least 9F off. This is a big disappointment as the WiFi's/Bluetooth feature integrated with the temp probes is a huge plus. I will try the offset calibration with my sous vide circulator as a bath, but it should work out of the box! App is a bit buggy when controlling from the front panel and then changing via the app.
Date published: 2020-08-23
Rated

1

out of

5
by
Adden01
from
Not a good start
Bought this grill to replace a weber SmokeFire. My initial impression was that the build quality was much better than the weber. It started well, with the initial burn in and then some rib-eyes, then it stopped working. I called service and they determined the hot rod had failed. I had started the grill twice in less than 48 hours and it died. When I spoke to customer service I asked that if replacement parts could be expedited, but they decided it was not worthy of the shipping and it's been a week and a half. Weber was at least responsive within a day or two when I had issues. The customer service rep from Broil King seemed to not really care that this grill failed after two days.Hoping this was an anomaly, but all signs point to the problem being bigger than just the grill.
Date published: 2020-05-31
Rated

5

out of

5
by
arlog
from
This Is Smokin'!!
Bought about a month ago. Have used 3 bags of pellets so far. Love this smoker. Easy to use. Easy to clean. Smoke penetrates meat all the way through! Rotisserie is a great option that we have never used in the past. Highly recommend.
Date published: 2020-05-16
Rated

5

out of

5
by
Newt4hawks
from
First Pellet Grill
Got this about a month ago and am new to the pellet grill game so I started slowly and easily. I've done all three cooks... smoked some salmon, grilled steaks and roasted chicken. All three were amazingly good and it's very easy to operate. I just have to get used to the extra steps. My second cook I set temp at start up for grilling but forgot to push the knob to initiate, so it went way past the temp I needed before I realized what I had done. The good news is I probably won't make that mistake again. So far very happy with the product!
Date published: 2020-02-18
Rated

2

out of

5
by
Smoke show
from
Auger won't turn
I used this pellet grille 6 times now and as far as using the grille I think the control panel is straight forward . Like the temp probes. Now for the not so good. When I tried firing it up last time I used it the auger wasn't moving so after 20 min I took it apart,got down to the fire pot and tried to jiggle the auger and away it went so I thought some hard material maybe was in the pellets . The last time I used it I could not get the auger to mover at all had to remove the pellet box and remove the auger completely. From what I could see just looked like a bunch of ash in the auger tube. NOT IMPRESSED!!! Put it back together and it works but how often am I going to have to do that! I think the motor just isn't strong enough and any little thing it's stops turning . im sure they have an excuse like it's the pellets you were using or moon wasn't in proper alignment with the stars that day. You might want to look at another brand
Date published: 2019-10-04
Rated

3

out of

5
by
Ms griller
from
Well built grill but customer service is terrible
The grill is very well built; however, the temp controller and probes have not worked from day 1. Probes record temp at least 20 degrees warmer than the actual temperature is. Temp readout is very different from actual temp in grill. I put it on sear and the temp readout shows 672, inside temp is actually 525. Same with smoke temps inside grill is 190 and readout shows 245. Been trying to work with my local dealer to get replacement parts, they say they are waiting for BroilerKing to get them the part to repair—well I'm still waiting after more than 2 months. Very disappointed.
Date published: 2019-07-14
Rated

5

out of

5
by
Smokey Duke
from
The Best Pellet Grill on the market
I've been using this grill for over a month and it works perfectly. The Broil King Pellet XL is a feature-rich, high quality, heavily built pellet grill that is second to none. It's as if Broil King assembled a group of Pitmasters and a design team in a room with a blank sheet of paper and this is what they've created. I looked at pellet grills priced from $500 to $3800 and this is by far the very best value, best-configured grill on the market under $1800 CAD - bar none. It is heavily constructed with it's cast iron reversible grates and 2mm tank-like construction. But also solves some of the day-to-day challenges of older style pellet grills such as ash and grease clean-out. It doesn't stop there however, they have also made it possible to change out pellets in-between cooks with a sliding hopper door, plus integrated storage racks for the included rotisserie. Did I mention the two meat probes that you can monitor via a WiFi or Bluetooth connection from your grill? Or the residential oven-like dial temperature controller with large, tilted back-lit LCD screen for easy viewing? The list goes on and on. There are some things which need tweaking but when comparing grills side-by-side, this is so far ahead of the competition as to be in its own category. Well done Broil King. This is my new favourite grill!
Date published: 2019-08-14
Rated

1

out of

5
by
unhappycustomer36
from
Terrible
I bought this in the summertime, I wish I had a time machine to go back and talk myself out of it.I bought it mainly to use as a smoker but also liked that it would heat up enough to sear/grill as well. As a smoker it has been a failure, mainly due to the temperature fluctuations every single time I cook on it. Example: today I put ribs on and set to 225F for 3 hours. One hour in, I get a notification from the app that the temp has just randomly hit 500! By the time I get back to get to the grill the ribs are already burnt and dried out and off to the trash. How is anyone supposed to smoke something when the grill randomly decides to more than double the temperature? I don't have the time to sit and monitor it to make sure its working properly, I count on the manufacturer to make a product that will work as advertised.This pellet grill is a waste of time, pellets, money and metal. I didn't spend $1700 to be a tester for Broil King to learn what not to do with a pellet grill. Lesson learned, back to propane I go.
Date published: 2019-11-15
Rated

4

out of

5
by
Big Cat Que
from
Close but not quite there yet
Over the past 20 years I have had 17 different smokers (horizon stick burners, G eggs, Weber Summit charcoal, BK Keg, etc. )between my home and lake properties. This was the 3rd pellet grill I've bought now (first two were GMG models). I bought the BK regal 500 because of the cooking size and the heavy lid for extra insulation and smoke leakage protection. The assemble was easy and the product is definitly built with quality. I normally cook over full wood and charcoal but at the cottage nothing is more convenient then a set it and forget it smoker. I could not have been more excited about this pellet smoker but it has some "issues". It takes very long to get to smoking temp. - almost 30 minutes before it settled into a zone (twice as long as my old GMG Bowie) the second thing is the heat distribution. It was wierd because the coolest part of the grill was right above the firebox. The left and right sides are actually hotter (with no water pan)For the good, once you learn the hot and cool spots, you can really cook well on this product. The ash removal system, double food temp probes, reversible cast iron grills....all great features. In the first 7 days I did a full packer brisket (prime), reverse sear tomahawk (605 for the final sear), chicken on the rotisserie, pork shoulder (pulled pork), etc. PICS ATTACHED...every thing turned out amazing for a pellet smoker. I actually think most pellet grills are never "great" because of the heat retention and lack of smoke depth but the average person could do a really great job with a little practice....Don't follow BK's rib temps though...bad. This is one of the best pellet smokers in this price range for sure but it still needs some tweaking. If you have never had a pellet smoker before, this is a great unit to start with
Date published: 2020-07-10
Rated

5

out of

5
by
Yardcorebbq
from
Next level versatility!
So impressed with this grill! Great low and slow cooking...but high heat true searing temperatures set this grill apart. Also really love the rotisserie function! The constructive quality, like my gas grill is everything I've come to expect from Broilking.
Date published: 2019-04-30
Rated

4

out of

5
by
Smokey the grill
from
Garbage app! great grill!
Had my regal 400 pellet grill for 3 weeks now, I have done steaks, meatloaf, wings, brisket, ribs and a pork shoulder. My grill works awesome, all the meat was done exactly as it should be. I have not used the rotisserie yet but plan to shortly. The complaint I do have is with the app. It is garbage. Broil king, you have a great product but look like a bunch of clowns with the poorly designed and mostly dysfunctional app.
Date published: 2020-05-10
Rated

1

out of

5
by
phez
from
Sounds like a jackhammer
we bought this smoker 4 months ago. smoke comes out everywhere except the smoke stack, it grinds the pellets like a jackhammer unless they are broilking pellets, takes an eternity to heat up and has a difficult time holding temps. won't be recommending this to anyone. GREAT! BBQ's terrible smoker.
Date published: 2019-11-01
Rated

1

out of

5
by
STEVE198484
from
NO CUSTOMER SERVICE
I purchased a Broil King Regal 500 Pellet smoker in late February 2020. I have used it less than 5 times and now the grill won't ignite. After numerous amounts of time I determined that the heating element or hot rod is defective. I have called twice and been disconnected both times after 15 minutes on hold. I have emailed 3 times and no response at all. I wish I would have bought another brand.
Date published: 2020-05-05
Rated

2

out of

5
by
Mitchvaters
from
Good smoker....absolutely useless app!
I bought this smoker and while its a beautiful smoker that works wonders, the app has never worked and now that its trying to force a firmware update that it cant do because of wifi issues, i cant use the app at all. If your buying for the app than turn away!
Date published: 2019-07-21
Rated

3

out of

5
by
Mike T
from
I really want to love this smoker but...
Bought this smoker end of May. Overall the quality is excellent. Love the cast iron grates and the thickness of the actual housing. However, having issues with the welds on the legs. some of seams are missing solder. I was also experiencing huge temperature swings but it seems to be a working better now. Sent in warranty claim on June 8th still waiting to hear back . I would give this smoker 5 stars if only the issues were resolved. ill update my review after more testing...
Date published: 2020-07-02
Rated

5

out of

5
by
GlebPle
from
Just WOW!
I am so amazed with this Grill! The features are outstanding! Rotisserie, massive grids and very solid construction!
Date published: 2019-05-08
CHECK OUT OTHER GRILLS IN THIS SERIES.