Buying Guide | Best Gear For Your Grill
Your Broil King gas grill is your home's most versatile cooking appliance. Smoke, roast, grill, bake, sear, or rotisserie cook – a Broil King grill is your complete outdoor kitchen.
And as any professional cook will tell you, a kitchen needs the right tools. It doesn't matter if your grill is fuelled by gas, charcoal or pellets. You can cook up some of the most complex and enticing flavours with the right accessories. A few essential items are meant to keep your grill operating at its peak performance. Check out our list of the best gear for your grill that will inspire and protect.
A new grill is a big purchase, and there's a wealth of accessories to explore and experiment with on your grill. However, one accessory cannot be overlooked, and that's a grill cover. It should be one of the first accessories you buy. It helps to keep out moisture, dust and debris that could lead to damage and rust. Size matters, and choosing a cover that is tailored to fit your grill will contribute to better protection overall. Whatever grill cover you choose, the important thing is that you have one! An uncovered grill is more susceptible to the elements, which shortens the life of your grill. A high-quality cover will provide optimal protection and keep your grill looking stylish even when it's wrapped up.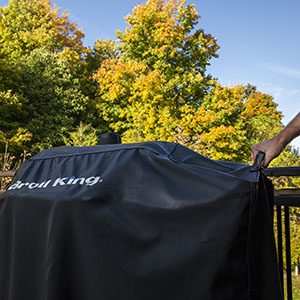 Another vital accessory to consider when you purchase a new grill is a grill brush. Along with a cover, it is an important tool in maintaining the performance and life of your grill. But there are a plethora of grill brush types and styles to choose from, so you may need to try out a few different options before you find the one that works best for you. If you want to learn more about the different options with Broil King, and their unique advantages, you can check out our blog about grill brushes. Just know that they are all safe to use (even wire brushes, despite the misconceptions) as long as they are regularly checked and replaced. Ideally, you should be swapping out your brush for a new one every three months (or sooner if you are a heavy griller).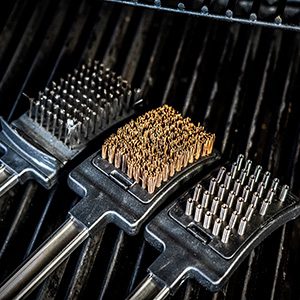 Once you've got your grill protected, it's time to think about how you'll shield your hands from the intense heat of the barbecue. A pair of heavy-duty Leather Grilling Gloves should be your go-to choice for handling hot cooking grates, roasting pans or griddles. These deluxe grilling gloves become more comfortable the more that they're worn. The gloves have an extra soft lining and can withstand temperatures up to 1000˚F. They're also helpful against the cold when grilling in the winter.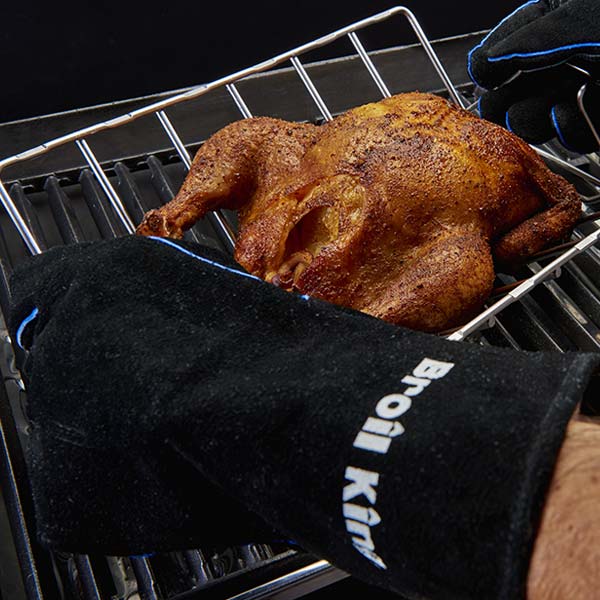 Every griller needs a reliable set of tongs for grabbing and flipping items on the grill. There are several options, but our favourite and most versatile tongs have to be the Precision Tongs. They are available in either 12-in. or 16-in. handles and feature a tapered head with scalloped edges for a sturdy grip. The precision tip makes it best for grabbing smaller, delicate items like roasted veggies or shrimp. But they can handle larger items like steak or pork tenderloin. These will get some of the most use around the grill, so best to stock up on a few pairs.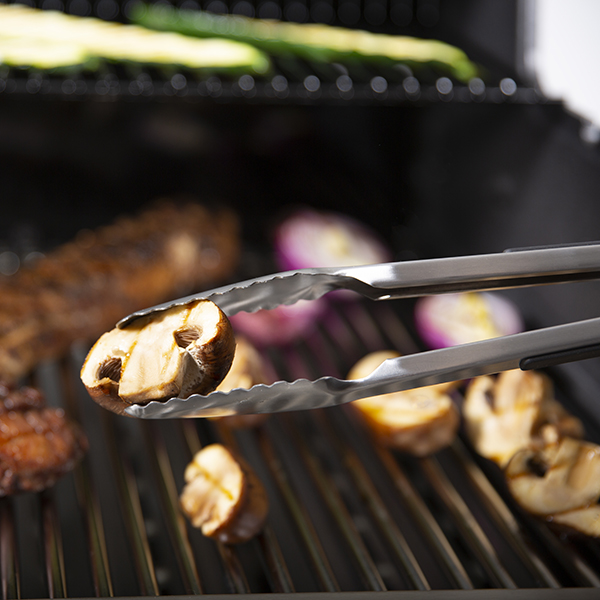 One final tool you'll want to keep close at hand is a thermometer to check the doneness of your food. Whether you're cooking a steak, chicken or a large brisket, you have to keep a close eye on the temperature to know when things are good to come off the grill. An Instant Read Thermometer is incredibly useful for taking quick readings. The large, illuminated screen makes it clear to read in any kind of light, and it can easily be switched between Celsius and Fahrenheit.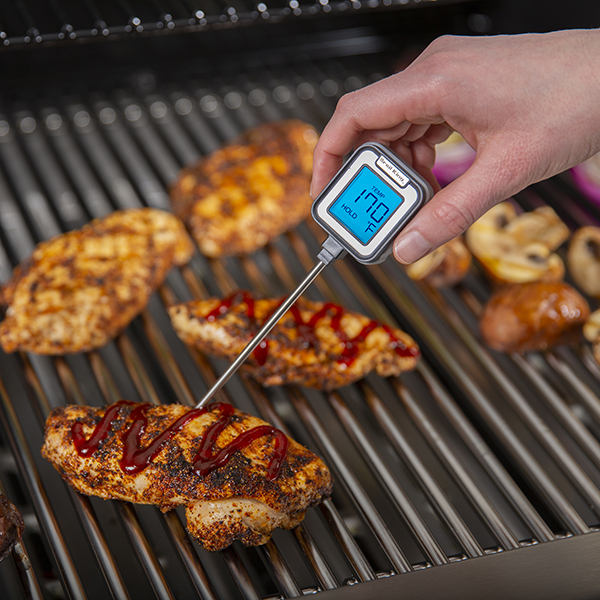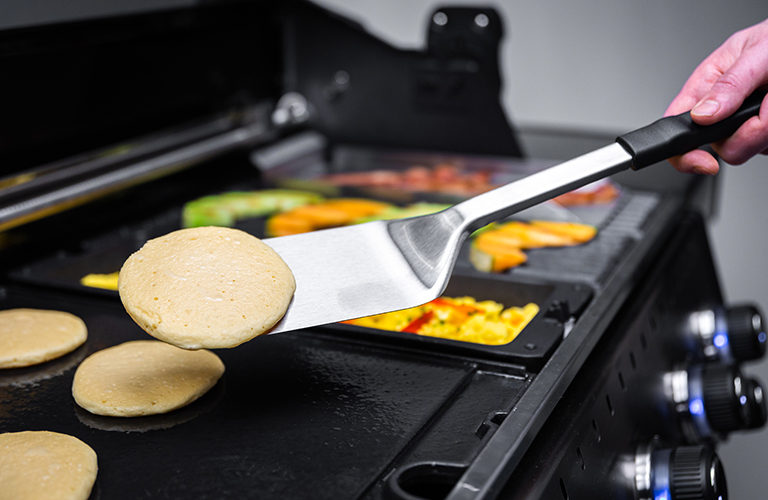 One go-to add-on is a flat top that is great for making smash burgers and breakfast. The Exact Fit Griddle is a highly versatile accessory that comes in numerous sizes to fit perfectly inside your grill. The griddle is made from heavy cast iron, which captures heat to deliver exceptional searing capabilities. It is the same width as two single cooking grates and sits inside the grill to capture the most heat. The griddle is dual-sided, with a smooth flat top for cooking things like bacon or pancakes and a ribbed side for delivering sear marks on veggies.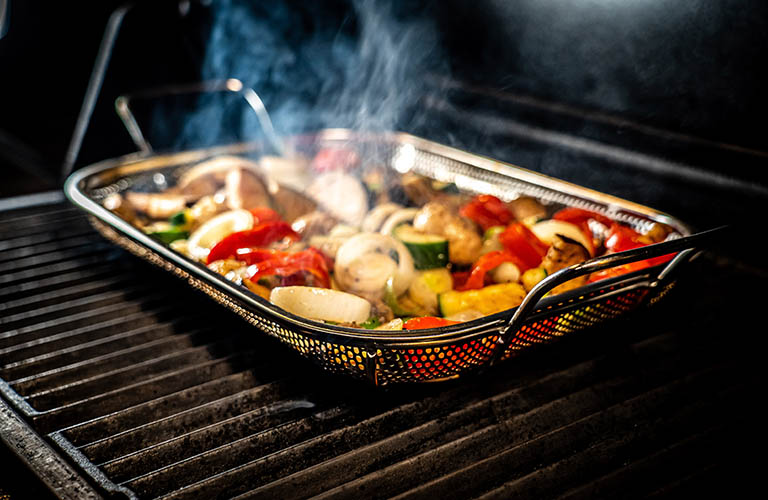 Another excellent cooking vessel that will get a lot of use is a Roaster Basket. You'll want this when cooking smaller items like chopped veggies or shrimp, which might fall between the grids. The small perforations keep everything contained while still allowing heat and vaporized flavour to make contact with your food. The large handles make it convenient for transferring on and off the grill with your leather grill mitts.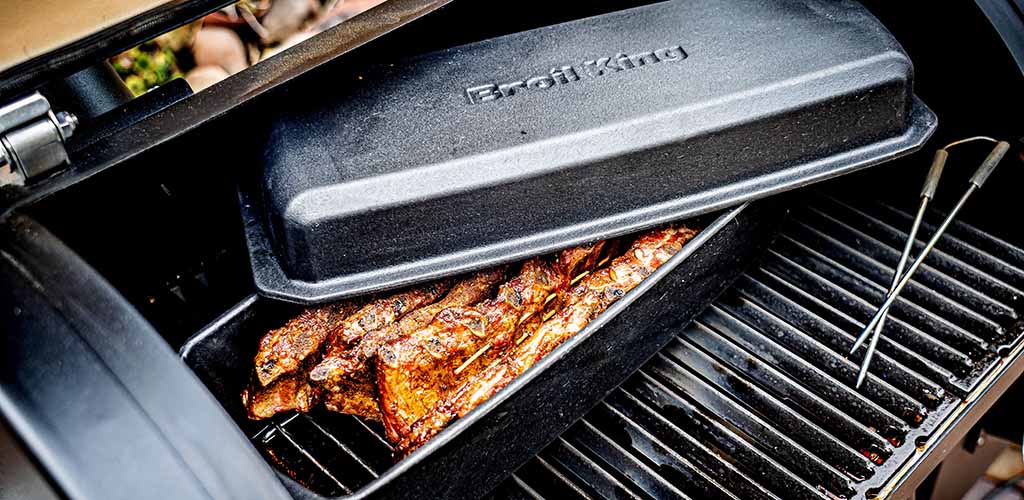 Don't let the name fool you; the Cast Iron Rib Roaster is for more than cooking fall-off-the-bone ribs. Easily one of the most versatile accessories, the roaster can be used for veggies, chillies, soups, and even baking bread. The top and bottom can be used separately to cook different sides or combined to trap moisture and heat. When used with ribs, the included wire rack elevates your meat so that it doesn't boil in its juices and instead captures those vaporized flavours for delicious and tender meat.