Get to Know Your Grill Brushes
We covered a few different cleaning tips and tricks in last week's blog and briefly touched on the importance of a good grill brush. This week, we will take a deep dive into the different types of grill brushes, their benefits and features, and when and why to replace your grill brush. We'll also bust some misconceptions about wire grill brushes, as they are a safe and effective way to clean your grill. A new grill brush is only a few minutes away at your local Broil King grilling destination. It should be checked every three months, replaced at least annually or when it shows wear.
Brushing your Grill, as easy as 1, 2, 3
First, let's quickly go over the best method for cleaning your grill. Next we want to make sure you can get into a good grill brushing routine that doesn't involve pushing sticky polymerized grime around your grill.
Save time and get better grilling results but sticking to these simple brushing steps.
Burn-off your grids by turning up the heat on your grill. Get it really hot. Turn it up to max on all burners.

It should get smoky.

The smoke is grease and grime burning up from previous cookouts. If you've never done this before, you should clean your grill with a de-greaser before burning it off. Wash each part thoroughly so that you don't end up with a BBQ sauce inferno in your cookbox.

Turn your grill off when it stops smoking. This could take up to 20 mins.

The inside of your grill will be dry and ashen. Remember, not all grills have the power to self clean like a Broil King grill.

Brush the cooking grids on both sides; scrape where necessary.

Ash won't get stuck in your grill brush bristles and it's easy to brush them off the grids. Set the cooking grids aside.

If you have a Broil King grill, brush the Flav-R-Wave zone or the bars on both sides. Set them aside.

Spray both sides with oil to season them. The oil polymerizes and creates a protective coating over time.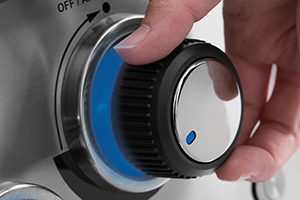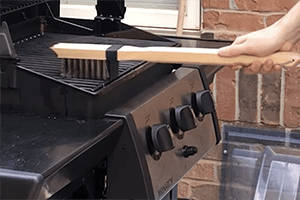 When you're ready to brush, the key is to use long, steady strokes. You want to push the brush in one direction forcefully. Don't move the brush back and forth and side to side like a toothbrush; remember when you pull the brush towards you it can flick grime back at you unless it has a Broil King Grime Guard. Follow the cooking grates front to back deep between each rod, keep the brush parallel with the grids, so drop your elbow. You'll get uneven wear on the bristles if you brush at an angle and put all of the wear into the front end. Don't forget to get back into the corners of the grill and the front and back edges of the grids. Take the cooking grids partially out of the grill if you need to in order to clean those hard to reach places. Once you've finished cleaning, don't forget to season the grids, to help protect them from rust.
Wire grill brushes have been around for a long time and were the standard for cleaning your grill. The stiff bristles are great at breaking up grime to reveal a clean grill surface. We have a couple of different options for wire brushes from Broil King – the Deep Bristle Grill Brush and the Extra Wide Grill Brush.
The Deep Bristle Grill Brush has extra-long bristles that reach down along the sides of your grids to remove debris. The brush also features a built-in grime guard and a scraper on the end that is great for cleaning creosote off the lid and sides of your grill.
The Extra Wide Grill Brush has a large, twisted bristle head that gets deep in the corners of your grill. It also comes in palmyra and nylon bristle versions.
Palmyra brushes are a new alternative to wire brushes and are preferred by some as a safer alternative. The bristles are made from natural palm plant wood fibres that will burn up if they happen to fall out while brushing. They still offer a stiff scrubbing surface similar to metal wire brushes. We offer three different palmyra grill brushes; the Baron Palmyra Grill Brush, the Heavy-Duty Palmyra Grill Brush, and the Tri-Head Palmyra Grill Brush.
The Baron Palmyra Brush is a great, sturdy grill brush that has the added benefit of replaceable heads. It comes with two additional brush heads, and more can be purchased as needed.
The Heavy-Duty Palmyra Grill Brush has the same features as the Deep Bristle Grill Brush but is made with long palmyra bristles instead of wire.
The Tri-Head Palmyra Grill Brush has a large, twisted head, with stiff palmyra bristles that reach into the corners and in between the grids.
The Extra Wide Nylon Grill Brush is designed for cleaning your grill while it's cool. They're ideal for cleaning your grids before you fire up the burners, as the nylon bristles will scrape off any bits of food that could have remained from your last cook. They are also easily identified if they fall out, as they are bright blue. The broad, triangular head gets into the deepest corners of the grill.
The Baron Coil Spring Grill Brush is another great alternative to a traditional wire brush. Instead of small, delicate bristles, the head is made with sturdy metal springs that can attack caked-on debris. There's also no chance of bristles falling out and sticking to your grids. The heads are replaceable, and the handle is compatible with the Baron Palmyra Heads.
The Ice Grill Brush harnesses the power of steam to clean your grill. Simply fill the mould with water, freeze, and click in the head to clean. The ice will melt and contour to the shape of the grids and steam away grime. You also never have to worry about purchasing replacement heads, as you simply make new ones once the ice has melted. You can add a splash of lemon juice to your ice blocks to act as a natural degreaser.
The Wood Grill Scraper is designed to scrape away food and charred bits from your grids. The wooden head will contour to the grids over time from the searing heat of the grids. The power grip handle lets you use two hands to really dig in.
Replacing Your Grill Brush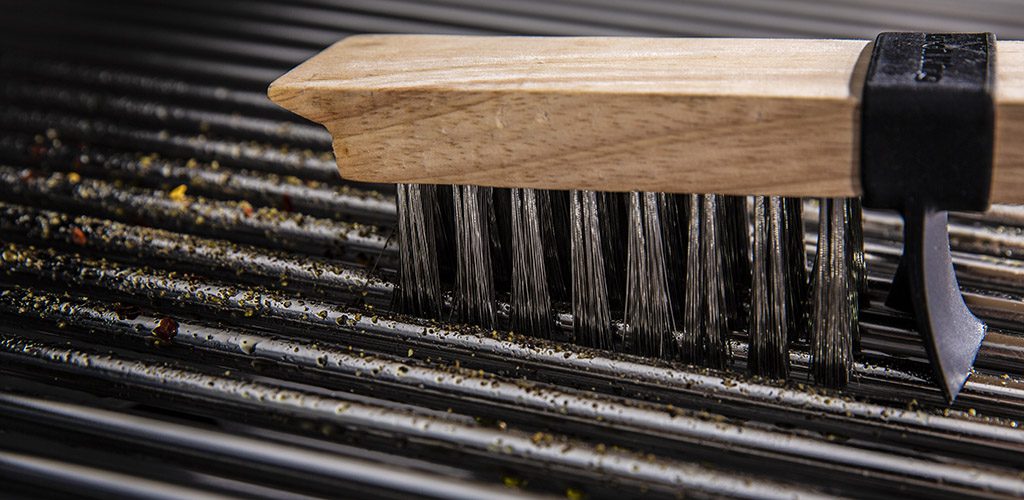 So, one of the biggest mistakes made is continuing to use a grill brush long past its prime. It's one of the most neglected items around the grill, but it is vital in maintaining your cooking grids. If you're cleaning with a dirty grill brush, you're not cleaning at all. Instead you're smearing the grime that is already on your grids around and it will end up on your food. If the head is coated in grime, rust, or the bristles are damaged and splayed, it is time to swap it out. Think of it like your toothbrush – it's roughly the same price and should be replaced every three months (sooner if you are grilling more often).
This leads to the biggest misconception about wire metal brushes. You may have heard stories about wire bristles getting stuck to grids and ending up on cooked food. While it is possible, this happens because you're using an old and damaged grill brush on very dirty cooking grids. A quality grill brush has the bristles secured inside the head with heavy-duty staples, tested to rigorous standards. While all bristles can weaken and loosen from prolonged use If you keep an eye on your brush, looking for damage to the head or loose bristles, and replace it when it needs replacing you don't need to worry about using a metal brush.
So what's the bottom line? We should extend the same level of care and attention to our barbecue that we give our indoor kitchen appliances. Use a quality grill cleaning tool, replace it regularly, and properly clean your grill. It will extend the lifespan of your grill, cooking grates, and grill brush and ensure your backyard barbecues stay safe and fun!