Grilled Veal Chops with Gremolata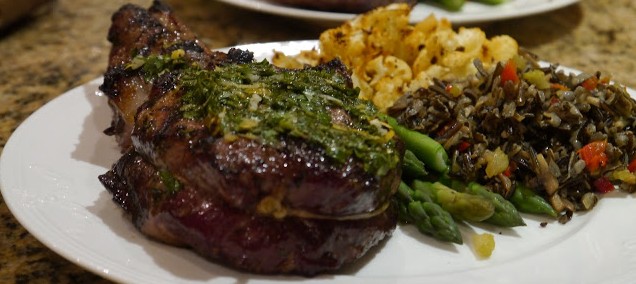 4 veal chops
For the Marinade:
½ cup lemon juice
2 tablespoons olive oil
1 tablespoon grated lemon zest
2 tablespoons chopped fresh parsley
1 teaspoon chopped fresh thyme
2 cloves garlic, minced
For the Gremolata:
2 tablespoons grated lemon zest
¼ cup chopped fresh parsley
1 teaspoon finely chopped fresh rosemary
1 clove garlic, minced
Combine the marinade ingredients.  Place the veal chops in a re-sealable plastic bag and pour the marinade over top.  Let stand for ½ hour at room temperature, or up to 6 hours in the refrigerator.
Preheat the barbecue on MEDIUM HIGH, then reduce heat to MEDIUM.  Brush the grids with olive oil.  Place the chops on the grill and cook for 4 minutes/4 minutes/4 minutes/ 4 minutes, following the directions for Perfect Grill Marks.  Let stand 5 minutes before serving.
Meanwhile in a small bowl combine the Gremolata ingredients.  Sprinkle over the cooked chops.
Enjoy!
Find more great grilling recipes at broilkingbbq.com