Honey Garlic Leg of Lamb on the Rotisserie
This recipe is perfect for any number of spring occasions.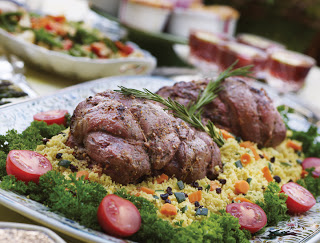 2  3 ½ pound boneless legs of lamb
2 tablespoons lemon pepper
¼ cup butter
2 teaspoons dried rosemary
3 cloves garlic – minced
juice and zest of 1 lemon
juice and zest of 1 orange
1/3 cup honey
For the Drip Pan:  optional, 2 sprigs fresh rosemary
Up to 24 hours or at least 1 hour ahead of cooking, rub the meat all over with lemon pepper.  Melt the butter in the microwave, and stir in the remaining ingredients, except for the honey.   Place the lamb in a heavy resealable plastic bag, pour the marinade over, seal and refrigerate.
One hour before cooking, remove lamb from refrigerator to bring it close to room temperature.    Remove from marinade, pat dry with paper towels, and brush lightly with olive oil.  Reserve marinade.  Place a drip pan directly on the Flav- R-Wave heat medium, beneath the cooking grids, in the centre of the barbecue.  Fill with water or wine and rosemary, if desired. Preheat the barbecue on HIGH.
Meanwhile, skewer the meat on the rotisserie rod.  Tie meat tightly and fasten securely with the prongs.  Position the counterbalance for even rotation.  (To do this, lay the rod with meat over the kitchen sink allowing the heaviest side of the roast to turn to the bottom. With the counterbalance loosened, rotate it to the opposite side…facing up.  Twist the end of the spit rod to secure tightly)
If using main burners, reduce temperature to MEDIUM-LOW.  If using rear rotisserie burner only, reduce the temperature to MEDIUM.
Place the spit rod on the barbecue, inserting into the motor and close the lid.  Check the water level in the drip pan every 20 minutes to 1/2 hour to ensure that the liquid has not evaporated.  Carefully pour in additional HOT water as needed, using oven mitts to protect your hands.
Meanwhile, pour reserved marinade into a small saucepan and add 1/3 cup honey.  Bring to a boil, then simmer until slightly thickened, for at least 5 minutes.
For best results, use a meat thermometer to ensure that it is cooked to your liking  (Rare: 135°F, Medium- Rare: 145°F), but as a general guide aim for 20 minutes per pound for medium doneness.
Place on a carving board, tent with foil, and cover with a kitchen towel to rest and reabsorb juices.
Cut into slices and serve with the reheated marinade
Enjoy!
Recipe courtesy of Gathering Around the Grill