Technique | Smoking with Gas
Our gas grills offer exceptional flavour and convenience. With a good gas grill, you can get to searing temperatures quickly and efficiently, no matter the weather. But there's no mistaking the delicious smoky flavour from a smoker grill – be it pellet, wood chip or charcoal. Is it possible to add those same woodsy flavours to the food you prepare on a gas grill? The answer is simple – use a smoker box. We've got a few different options, so let us help you pick the right box to get you smoking with gas!
The Smoker Box is excellent for using wood chips to add some smoke on your gas grill. The single large chamber can hold quite a few chips for a longer smoke time and will balance perfectly on top of your cooking grates.
60190 – Imperial Smoker Box
The Imperial Smoker Box is designed to sit on top of the Flav-R-Wave, closer to the heat source for improved combustion. It features two chambers for twice the smoking power and an integrated air-dampener in the lid. The box can also hold liquids for added moisture and flavour; combine chips and juices for endless flavour combinations.
60181 – Pellet Smoker Box
The Pellet Smoker Box is designed to burn wood pellets on your gas grill efficiently. It can sit on top of the Flav-R-Waves or your grids. The strategic cut-outs allow for optimal airflow to keep the pellets burning for big, smoky flavour. The box also has tabs to use a grid lifter to transfer the box on and off the grill.
Next, you want to decide on your fuel source for your smoker box. You've got many options that will each create different flavour profiles. Check out the various options, and remember you can mix your chips and pellets to create unique combinations.
Apple Wood Chips offer a light, sweet smoky flavour and are great with pork, poultry, grilled fruits and cheese.
Hickory Wood Chips offer a stronger, classic smoky flavour that we typically associate with barbecue. It's great for larger cuts of meat, due to it's stronger flavour profile.
Mesquite Wood Chips offer the boldest, most distinct flavour for smoking large cuts of meat. It's great for beef, lamb, pork, poultry and game meat.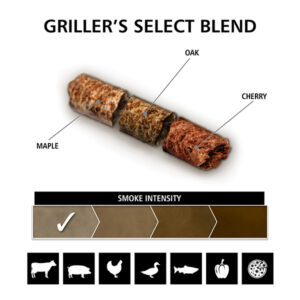 This pellet blend offers a lighter and slightly sweet smoke, designed not to over-power food flavors. A great choice as an everyday grilling pellet. Try with beef, pork, poultry, fish, vegetables and pizza.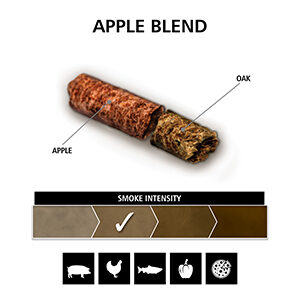 A finely crafted blend of apple and oak that creates a subtle and fruity, sweet smoke. Our pellets are 100% natural and contain no fillers, binders or additives. Try this blend with pork, poultry, fish, vegetables and pizza.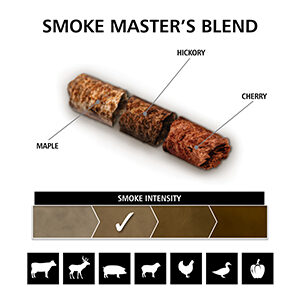 A selection of pellets popular with competition BBQ champions. This blend offers hints of sweetness combined with a full-bodied hickory smoke. Try with beef, game, pork, lamb, poultry and vegetables.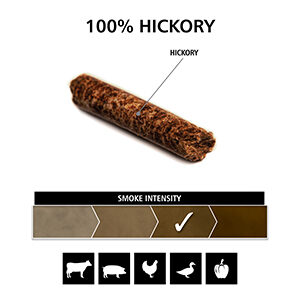 The most iconic BBQ flavor. Hickory offers a strong smoke taste, often associated with bacon or smoked ham. This robust smoke works well with large cuts of meats. Try with beef, pork, poultry, and hearty
vegetables.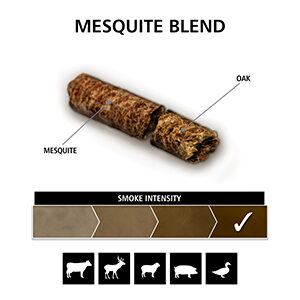 This blend of mesquite and oak creates a southwestern smoke flavour. Mesquite, the boldest of our wood pellet fuels, naturally enhances the flavour of a variety of foods. Try with beef, game, lamb, pork and poultry.
To smoke on a gas grill, you'll need the help of a

 Smoker Box.

You can use

 wood chips 

or

 pellets 

for adding smoke, and there is an assortment of wood types to play around with your flavours.

For a complete breakdown of the smoking technique, check out our other

blog.

You'll place your smoker box above one of your lit burners, putting as much distance between it and your meat. You can do this by only using burners on one side of the grill or utilizing your warming rack.

As with charcoal and pellet grills, you're looking to maintain an internal cook box temperature of 225˚F (107˚C) throughout the cook and don't want to use burners directly below your meat.

Depending on how quickly your chips or pellets burn, you will need to swap out and refill your smoker box throughout the process. Be generous and remember that it's about quality not quantity of smoke. It's better to have a lot of thin blue smoke over time then a big puff of white smoke all at once.

You may choose to soak your wood chips, or add flavoured liquid to your smoker box. Check out our

blog

about soaking to see why you may or may not want to do this.

A gasser makes temperature control easy, all you need to focus on is the smoke and food flavour.

You can also use wood planks when grilling your food to add smoky flavour. Check out our blog to learn all about the planking technique.